Doctors amputate hand to one of protesters and ablate eyeballs to three of protesters
4 out of 42 hospitalized people, who got injuries during the clashes at Hrushevskogo Street in the center of Kyiv at night, are in  critical condition.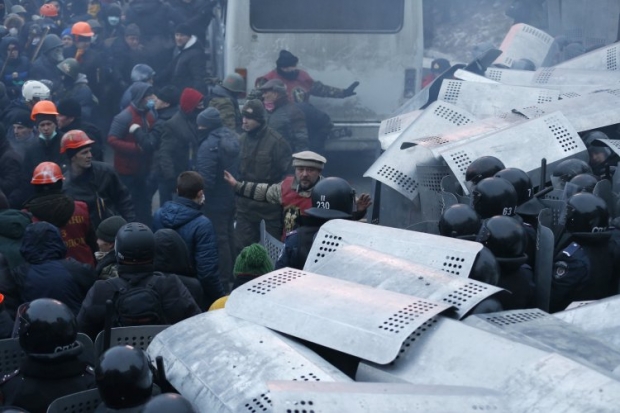 Many people got injuries during clashes
Doctors amputated a hand to one of the protesters and ablated eyeballs to three of the protesters.
According to an UNIAN correspondent, director of Health Department of KCSA Vitaliy Mokharev said this at press conference.
He explained that ablation of eyeballs were necessary because doctors certified contusion of eyes and ablation of a hand was necessary because a bone was completely splintered.
Injured people are hospitalized in Aleksandrovska central hospital (about 16 people), in first aid hospitals (4 people), in clinical hospital № 9 (5 people), in hospital № 17 (3 people), in children's hospital № 7 ( 1 young man, who is 17 years old), on Oblast clinical hospital  of the Kyiv hospital ( 2 people) and in the clinical hospital № 3.
Reuters

According to the words of Mokharev, it was a situation at 9.00 am and he has not received new information yet. There are two journalists among the injured people – from "Izvestia" newspaper and Radio Svoboda. According to the head of the department, they were hospitalized to Aleksandrovska central hospital.
According to the words of Mokharev, no complaints were registered in toxicological department of hospital.
Age of injured people varies from 17 up to 59 years. Primarily, these people are Kyiv citizens, but there are also people from the regions, both from Eastern an Western regions. Mokharev said that 15 brigades of ambulance were working at night. They were working in tense regime, but fully fulfilled their duties.
The head of the department said that brigades and hospitals have all necessary medicines.
It was noted at press conference that 103 complaints were registered in brigades of ambulance as of 9.00 am.
If you see a spelling error on our site, select it and press Ctrl+Enter