Armored vehicles brought at Hrushevskogo Street, Maidan prepares for decisive storm
On January 22, at 8.10 am law-enforcement bodies started storming Hrushevskogo Street, having seized whole Hrushevskogo Street and European Square.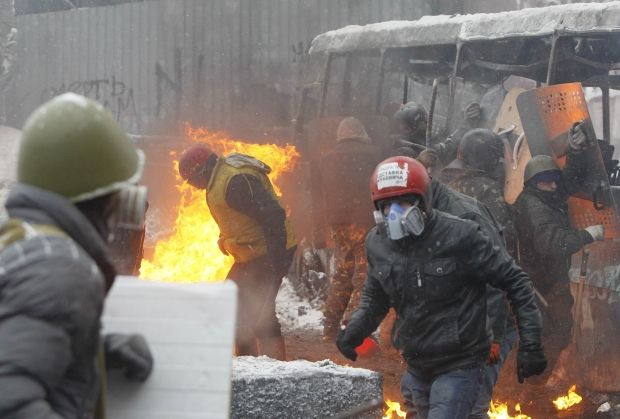 Clashes at Hrushevskogo Street have been lasting since early morning/REUTERS
In their turn, protesters, who were pushed aside from Hrushevskogo Street to European Square, regrouped and rushed to the attack at the Berkut and pushed special squad soldiers aside to the initial position with a help of stones, firecrackers and "Molotov cocktails".
Under the pressure of the special squad soldiers of the Interior Ministry people ran away from Hrushevskogo Street to Khreshchatyk. While dispersing protesters the special squad soldiers also started running and pushed people aside in the direction of Khreshchatyk.
As of 12.35 pm Berkut's soldiers stopped near "Dnipro" hotel and people withdrew at Maidan Nezhalezhnosti.
An alert was announced at Maidan, where the protesters gathered and at loudspeakers people were warned that columns of militia are directing to Maidan.
At the same time law-enforcement officers grouped on the perimeter of Hrushevskogo Street and kept on use weapons with runner bullets against protesters.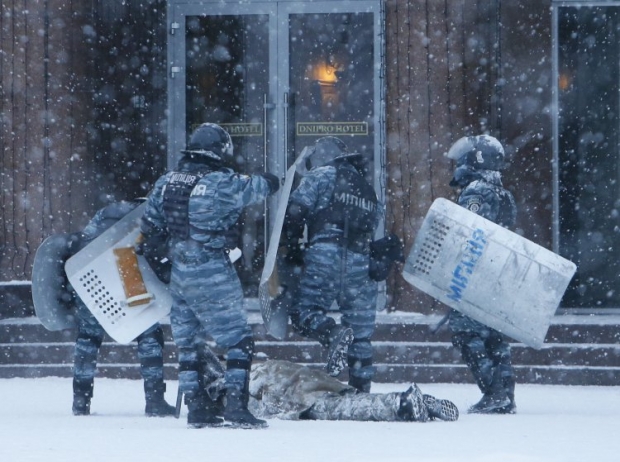 Berkut beating a protester
There are a lot of people, who got injuries both from sound grenades and directly from clashes with special squad soldiers.
In some minutes protesters rushed to the attack at European Square. Berkut's soldiers are withdrawing.
According to an UNIAN correspondent, several hundreds of protesters rushed to the attack at the Berkut. They are pelting them with stones and "Molotov cocktails".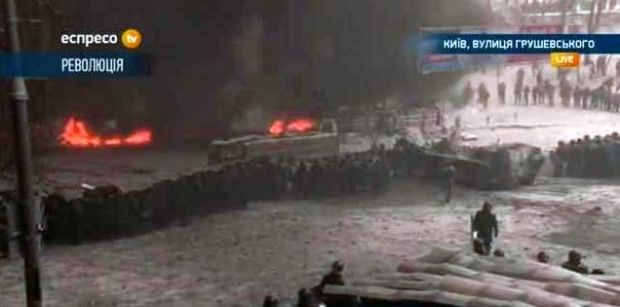 APC is brought at Hrushevskogo Street/Screenshot Espreso.TV
Armored personal carrier was brought at Hrushevskogo Street. It is behind the law-enforcement officers.
Berkut is using APC for cleaning of Hrushevskogo Street from the barricade. According to the correspondent of Espreso. TV, the barricades are being removed in order in a case of attack of the protesters Berkut's soldiers have possibility to withdraw.
At the same time protesters say that the Berkut prepares for a full clean-up operation of Maidan.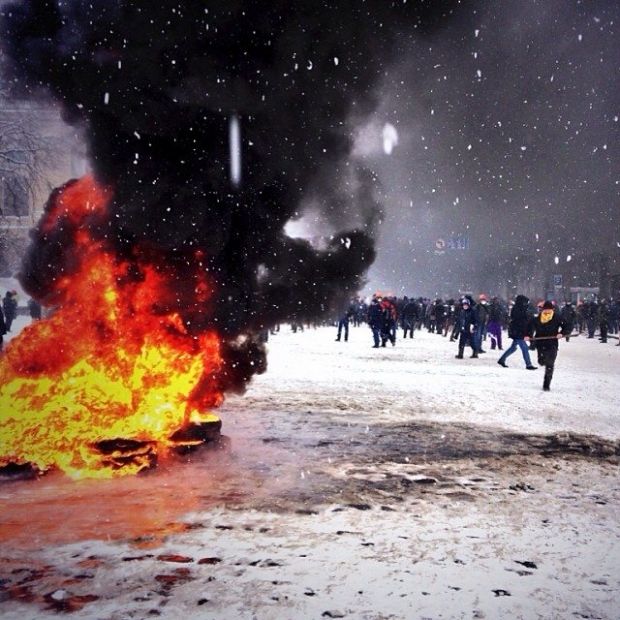 Dense black smock at Hrushevskogo Street / @divinejudge / Instagram
As of now there are about 5 thousand people at European Square and about 30 thousand people at Maidan.
 In the social networks there is information that a full clean-up operation of Maidan will take place after 16.00 pm.
"State radio, which is situated at Khreshchatyk, near Shokoladnitsa café, phoned us on a hot line. The employees of the radio were told to leave the premises till 16.00 pm, because there will be a full clean-up operation of Maidan!", - the report says.
In the comments users state about evacuation from other offices in the center of Kyiv.
If you see a spelling error on our site, select it and press Ctrl+Enter