About at 4.00 a, Berkut special subdivision soldiers detained activists of AutoMaidan, who were patrolling the 17th hospital of Kyiv.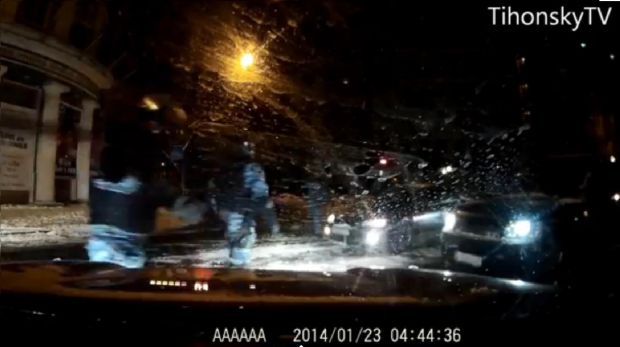 Berkut attacks cars of Kyiv citizens/video recorder
According to Ukrainska Pravda, according to the words of Oleksandra Matviychuk from the Civil Freedoms Center, a number of detainees still remain unknown. All cars are smashed.
According to the words of the man, who managed to escape, he heard how Berkut soldiers threatened the detainees that they will beat them.
According to Hromadske TV that was broadcasting at the scene of action, according to the texting of participants of AutoMaidan, they were trapped: provokers posted information in Internet in order to gather people at one place and to attack them.
In particular, EuroMaidan reports that law-enforcement soldiers threw an explosive in a yellow bus.
According to information of lawmaker Lesya Orobets, "Berkut soldiers kidnapped more 4 drivers of AutoMaidan".