First video with Dmytro Bulatov appears
One of the leaders of AutoMaidan Dmytro Bulatov, who was found tortured in the evening of January 30, told how he had been tortured.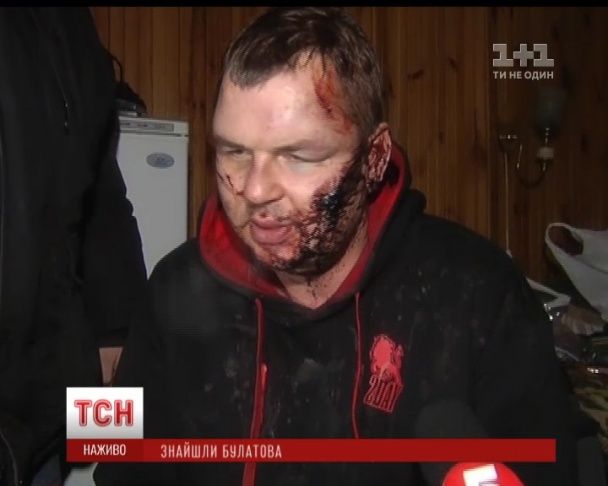 Bulatov told how he had been tortured/ТSN
According to TSN, Dmytro was beaten, but he is able to walk without aid.
They tortured and cut him, and they also tried to put out his eye, but then, fortunately decided not to do it.
According to his words, it took place at Troyeshchina district and these actions of professionals.  He was kept in full dark and was not fed during the first days.
"They kicked me away, they beat my ear and cut the face. There isn't a clean spot to be seen on my body. They kept my eyes closed all the time that is why I did not see people that tortured me. But kidnappers had a Russian accent", said the activist.
Dmytro Bulatov promised to tell more details about his kidnapping and torture that he was subjected to all the recent week a little bit later, after rehabilitation.
The activist of AutoMaidan also said that after the week of tortures, they brought him to a forest and left him there. He managed to reach the nearest village independently, local resident helped him there, fed him and allowed him to make a call.
Friends and journalists arrive to him immediately. Now he is in "Borys" hospital.
On the air of Hromadske TV Petro Poroshenko said that Bulatov has a brain concussion, however, he did not have injuries that threaten his life.
Vitaliy Klitschko and lawmakers have already arrived there.
If you see a spelling error on our site, select it and press Ctrl+Enter