The Agreement on settlement of crisis in Ukraine was signed in the Administration of President of Ukraine.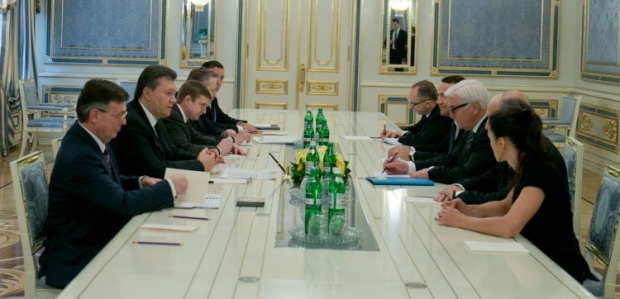 Yanukovych and opposition leaders sign Agreement of settlement of crisis in Ukraine
According to an UNIAN correspondent, President of Ukraine Victor Yanukovych, leader of the Political Council of the Batkivshchyna Arseniy Yatsenyuk, leader of the UDAR party Vitaliy Klitschko and leader of the Svoboda All-Ukrainian Union Oleh Tyagnybok signed the agreement.
Foreign Minister of Germany Frank-Walter Steinmeier, Foreign Minister of Poland Radosław Sikorski, Director at the Continental Europe Department of the French Foreign Ministry Eric Fournie witnessed signing of the agreement.
At the same time Russian ombudsman Vladimir Lukin was not present at signing ceremony.
Speaker of the Verkhovna Rada of Ukraine Volodymyr Rybak, Foreign Minister of Ukraine Leonid Kozhara and Chief of Staff of the Administration of President Andriy Klyuev and ambassadors of the EU countries were also present at the signing ceremony.