Tonight Russian military men sank the early written-off big submarine chaser "Ochakov" at entrance to Donuzlav Lake, having blocked an access to the sea to the ships of Southern naval base of the Navy of the Armed Forces of Ukraine.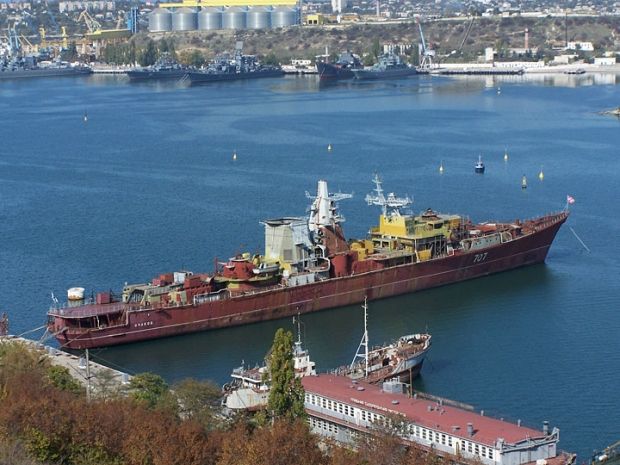 Russian military men sink ship at entrance to Donuzlav Lake, having blocked access to sea to ships of Ukrainian Navy - source
A military source in Sevastopol disclosed this to an UNIAN correspondent.
According to his data, military men without distinction signs started leaving the roadblocks in garrison "Donuzlav" (Novoozernoe village) yesterday, after 23.00 pm.
Then, at about 23.30 pm, ships of the Black Sea Fleet of the Russian Federation ("Moscow" surface-to-surface missile cruiser among them) unmoored and left in unknown direction. By their presence they blocked an exit from the lake to the Ukrainian ships several days.
After that Russian military men brought "Ochakov" ship using the tow ropes and put it between Northern and Southern sandspits at entrance to Donuzlav. Having fastened it one of the previously exhibited two barrels (floating hydraulic structure for the" tying" ships and vessels), using anti-fire boat they began to fill "Ochakov" with water for buckling.  Then, according to unconfirmed reports, there was an explosion, and the ship lay on board. Before this operation observation post of the Navy of Ukraine was "blinded" with searchlights of the Russian ships.
The interlocutor of the agency noted that the depth at the place of submersion make up 9-11 m, an upper part of the ship is observed.