MFA: Russia has made military intervention in Kherson region
The military invasion of 120 Russian paratroopers landed on Arabat arrow next to the gas distribution station. This in Kherson region.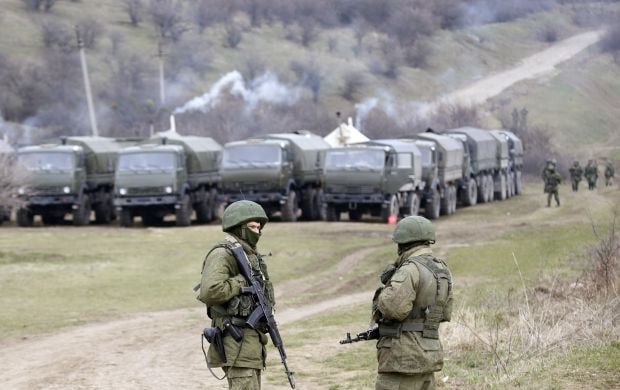 Russia has made military intervention in Kherson region / REUTERS
According to locals, landing fully equipped and armed. They landed from Russian militaryhelicopters. Also several Russian BTRs came.
The Ministry of Foreign Affairs said that Russia has made military intervention and Ukraine reserves the right to use all necessarymeasures to stop the military invasion.
Quite contradictory statement hanging on the Ministry of Defense of Ukraine - thereclaim that they raised forces of Army Aviation of Armed Forces of Ukraine and after thatRussian Troopers stopped and returned to their location. This is despite the fact that theBorder Service reported that the Russian military is not moved from the place. Moreover, there is a report that column of Russian military vehicles moves from south to north ofArabat arrow. How military vehicles has not yet been established.
Phone, resident of Strilkove village, Henichesk district, Kherson region:
Armed to the teeth . And grenade launchers and machine guns, and front and rear them and backpacks, they plunged by one in 2 large helicopter at this time 2 small combat flying around . Rose into the air and flew toward Sivash on Dzhankoi . At this time, call and tell us that at the end of the village, in the southern part of the village there are green men on foot moving on foot to Strelkovskaia gas field .
Head of Press Service of State Border Service of UKRAINE:
From the Ukrainian side pulled reserves, military confrontation is not. As a result of negotiations with the Russian side , the Russians claim that their goal is to remand gas station but if they were protected from any action.
If you see a spelling error on our site, select it and press Ctrl+Enter