Occupants start storm of Konstyantyn Olshanskyi ship (photo)
Russians start storming landing craft Konstyantyn Olshanskyi.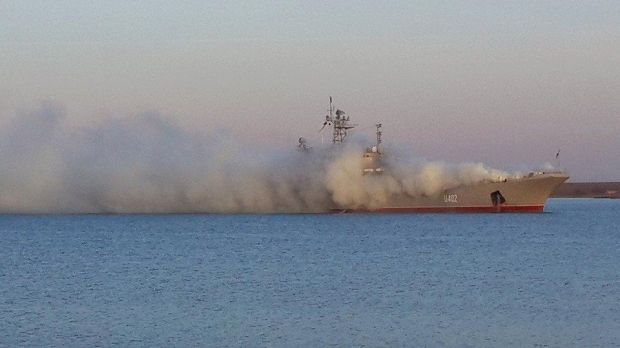 Captain of the ship Dmytro Kovalenko said this, Ukrainska Pravda reports.
"We are under attack", - he said.
At the same time, Senior miner of artillery mine- torpedo combat unit, senior sailor of "Cherkassy" ship Oleksandr Hutnik said this to Ukrainska Pravda, as of 17.22 pm the ship is covered with smoke, the long boat of the Black Sea Fleet of the RF came over to it.
At the same time, according to the words of the chief of the media-center of the Defense Ministry of Ukraine in Crimea Vladyslav Seleznev, "Olshanskyi threw two smokescreens".
If you notice a spelling error, please highlight it with your mouse and press Ctrl+Enter