Separatists seized the building of Horlivka City Department of Militia in the Donetsk Oblast today.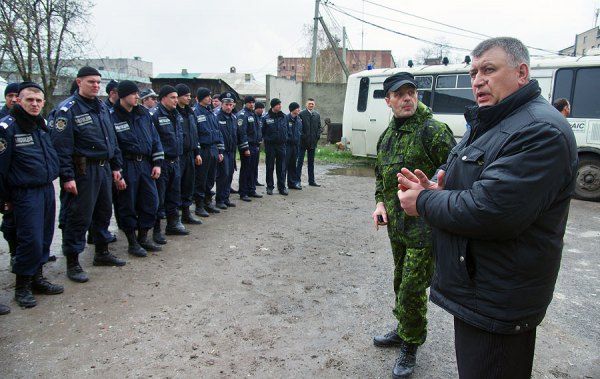 Part of militia in Horlovka goes over to command of lieutenant colonel of army of RF/Photo: Aleksey Kravtsov
"Someone in camouflage, who introduced himself as lieutenant colonel of army of the RF from Simferopol and showed Russian passport(!!!) "introduced" new chief – a man in civvies Shulzhenko Aleksandr Fedorovich to a part of the personnel of the department in an inner yard at 12.50 pm", - lawmaker of Odessa Oblast Council Oleksiy Honcharenko report this in his blog at Ukrainska Pravda.
At the same time, current chief was taken out of the destroyed building.  An officer did not lay down arms to separatists and they put him in a car.
According Honcharenko Horlivka was one of the few cities in Donetsk region, where militia headed by Colonel Andriy Kryshchenko resisted separatists. However, during two days no one came to them to help and the militia department surrendered.