Fighters attacked a border unit in Luhansk, today, on June 2.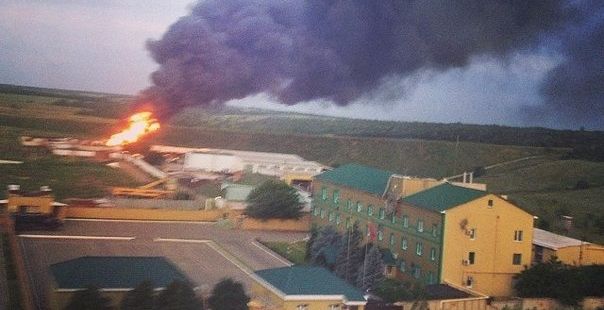 Fighters attacked a border unit in Luhansk, today, on June 2. / colonelcassad.livejournal.com
About 100 armed people, who dispersed on a perimeter of the unit, drove to Luhansk border unit about at 00.30 am. The first attack with use of guns and underbarrel grenades started at 4.00 am and lasted about 40 minutes, SBSU reports.
Border guards repulsed an attack successfully. Having redeployed, fighters started attacking again. This time they equipped positions in windows of multi-storey buildings and snipers provided an accurate fire at border guards.
The second and third attacks were successfully repulsed. Spot fires arose at the territory of the unit. There are injured people among border guards.
Terrorists keep on drawing up forces and armament to the department of the unit.
As of 7.00 am there are about 400 people. Mortars and DShKs (Soviet heavy machine gun firing the 12.7×108mm cartridge) are noticed in armament of the terrorists. According to an available data, terrorists blocked dwellers in the house, which is situated near the unit, and are firing from the windows of apartments of peaceful residents. That makes impossible for borders guards to provide an accurate fire.
Unfortunately, there are no aid from the Armed Forces and other law-enforcement bodies.