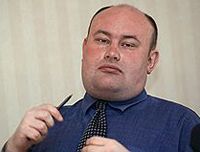 Alexey Makarkin
As it is known Gazprom counted to Ukraine new debt and threats to stop the gas deliveries. According to the words of the Russian experts, it is connected with aggravated political struggle in Ukraine itself – Yulia Tymoshenko and Victor Yushchenko can not arrange the range of energy issues.
The Russian political scientists think that there will no be a compromise in this issue and Russia will dictate its conditions from the position of force. According to the opinion of deputy general director of the political Technologies Center Alexey Makarkin, Russia demonstrates the seriousness of its intentions. "The confrontation between the Prime Minister and the President became aggravated recently – said Makarkin. – For example, Tymoshenko dismissed leaders of the Ukrainian Property Fund, but Yushchenko cancelled her decision. And now it is unclearly who is responsible in Ukraine for gas payment and for direction in a whole".
The political scientist said one more example concerning the confrontation in the relations of the President and the Prime Minister – recent statements of Tymoshenko and Yushchenko concerning RosUkrEnergo company, through which the gas is supplied. "The Prime Minister states about the necessity of review the gas relations and abolition the mediator, but the President states that the agreement will not be changed, -reminds Makarkin. – In this situation the position of Yushchenko is more advantageous for Russia and that is why by its statements about the possible blocking gas our country gives the opportunity to understand that we are serious in this issue and as if says to the Ukrainian President: "Stop Tymoshenko!".
Moreover, according to the words of the political scientist, the potential integration of Ukraine to NATO is not suit for Russia. "We are  not interested that Ukraine to enter to NATO, but Ukraine to be the country of pro Russian direction", noted Makarkin. The Political scientist thinks that the Ukrainian side will delay the reaction.
Gazeta.ru