When it is possible to give up for lost for CPU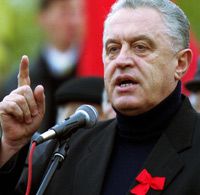 "Heaven forbid, as atheists say, Tymoshenko with the communists, the pants with skirt will meet than it is possible to give up lost for the CPU. This is my the most principle, just manly, and not just party's position". Communist Leonid Grach gave comments in the air of Era radio to the supposition that the temporary unblocking of the work of the VR, the fruitful labour of all parliament members during more than 2 hours and joint voting of the BYUT, Party of Regions and the communists for draft law on State Purchases can mean the reforming of the parliamentary coalition in the new format.
"I am categorically against that there will be some contacts between the CPU, the BYUT and the OU", said L. Grach. "But if to touch one or other in tactic way, as on these votes, which they blow up now, that Tymoshenko, the CPU and the part of the Party of Regions voted for this ill-fated draft law in the first reading. The estimation and interpretation come from this immediately (the draft law as corruption – edition)?"
For the remark of the host that the interpretation came from the Secretariat of the President, L. Grach reacted: 'What does it mean? That we acted in a right way because we give the opportunity to Yushchenko and Tymoshenko to take off the masks of virtue and grasp for throat of each other. Yulia Volodymyrivna has more sharp and more long nails…".
If you see a spelling error on our site, select it and press Ctrl+Enter