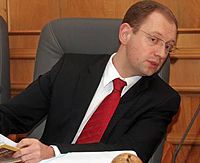 Speaker of the Verkhovna Rada of Ukraine Arseniy Yatsenyuk said that he will not open the session of the VR, because the presidium and the tribune are blocked.
According to an UNIAN correspondent, he said this in the interview to journalists.
According to the words of A. Yatsenyuk, he does not see the necessity and possibility to open the session of the Verkhovna Rada because of the blocking.
A. Yatsenyuk noted that the proposed the compromises and now the factions of the minority should make decision concerning this.