Proposed agreement resembles plucked hen to Lytvyn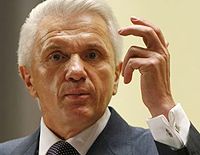 The faction of the Lytvyn's Bloc demands that every parliament member should take part personally in the voting for resolution concerning NATO.
According to an UNIAN correspondent, leader of this faction Volodymyr Lytvyn said this during the round table on unblocking the work of the Verkhovna Rada today.
According to his words, probably, the Verkhovna Rada will not be able to elaborate the agreed resolution concerning this issue that is why V. Lytvyn thinks that it is necessary to vote for registered resolutions on NATO. In this way, according to the words of V. Lytvyn, the 84th article of Constitution of Ukraine will be fulfilled, which provides the personal voting of every parliament member.
Speaking in a whole about finding the compromise, V. Lytvyn expressed opinion that "today we are far from attempts of finding it. The thing, which is proposed for us resembles a plucked hen to me".
He noted that the faction of the Lytvyn's Bloc is ready for the work in the session hall because it was not the initiator of this tension.
Moreover, V. Lytvyn noted that it is necessary to come to "concerted agreement, which would really unblock the work of the Verkhovna Rada".
If you see a spelling error on our site, select it and press Ctrl+Enter