Tymoshenko is at sick-list again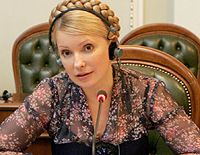 Yulia Tymoshenko
Prime Minister of Ukraine Yulia Tymoshenko is at the sick list and first Vice Prime Minister of Ukraine Oleksandr Turchynov will carry out the session of the Cabinet of Ministers.
According to an UNIAN correspondent, opening the session, O. Turchynov said that Yu. Tymoshenko went to Moscow, having not recovered. Now her state of health became worse and she has temperature and she is at the sick list.
The session of the Cabinet of Ministers started not at the scheduled time because O. Turchynov met with President of Ukraine Victor Yushchenko in the morning.
As UNIAN reported earlier, yesterday the President sent the telegram to Yu. Tymoshenko, in which he paid attention of Y. Tymoshenko on non-fulfillment of arrangements of the Presidents of Ukraine and the Russia Federation concerning settlement of the problems on delivering gas in Ukraine and payment for it. The head of the state underlined that the government should take urgent exhaustive measures for complete repaying debt of the Ukrainian side for the consumed gas. The government should also make decision on full fulfilling of the whole package of the arrangements, reached at the highest interstate level.
Yu. Tymoshenko had to report on fulfilling these demands to the head of the state personally till 9 am on February 27.
If you see a spelling error on our site, select it and press Ctrl+Enter