Putin "gave polite advance notice" to Yushchenko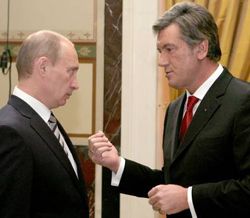 Vladimir Putin and Victor Yushchenko
Yesterday afternoon President of Ukraine Victor Yushchenko carried out a telephone talk with President of the Russian Federation Vladimir Putin. The main topic of the talk was non-fulfillment of the arrangements which leaders of the two states concluded in Moscow by the Ukrainian side. Particularly, they spoke about the outstanding debt of Naftohaz Ukrainy for the consumed Russian gas.
The press service of the President of Ukraine disclosed to UNIAN that Chief of Staff Victor Baloha reported this information.
According to his words, President V. Putin said that payment for used fuel carried out today is not adequate to all debt and can not be enough for further security of supply of gas to Ukraine. The Russian leader noted that Ukraine keeps using the fuel free of charge, the debt increasing consequently. This state of affairs does not give the basis to hope that the debt will be paid completely and in acceptable terms. The President of Russia informed the President of Ukraine that Gazprom Company may stop the gas supply tomorrow.
V. Baloha noted that the telephone call initiated V. Putin can be considered as a polite partnership warning and indication of intentions of the Russian side to settle existing problems. At the same time Russia is not going to continue cooperation, which turns out with losses to it. "It is hard to condemn our neighbours for this position. Probably, the attempts of our government concerning full and timely payment for gas were not enough. As it turned out, two weeks is not enough for the Cabinet of Ministers to discharge the debt, though the price was defined and all the possibilities were created", summed up the Chief of Staff.
He also added that the termination of Russian gas deliveries strike a considerable blow on fulfilling of the country`s obligations to transport fuel to Europe. In this way, the outstanding debt to Gazprom creates the tension in relations in two directions - Russian and European.
After the talk with V. Putin President of Ukraine, V. Yushchenko sent an official telegram to Prime Minister of Ukraine Yu. Tymoshenko where he pointed out on non-fulfillment of arrangements of two leaders. The head of the state instructed the head of the government "to take urgent exhaustive measures to complete repayment of the debt of the Ukrainian side for the consumed gas and fulfill the whole package of the arrangements reached at the highest interstate level".
Yu. Tymoshenko has to report to the President about measures taken by the Cabinet of Ministers by till 9.00 am on February 27, the report says.
If you see a spelling error on our site, select it and press Ctrl+Enter