Tymoshenko plays risky game – Baloha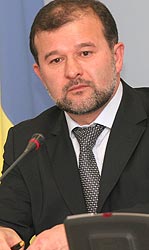 The government does not want to increase the budget expenditures for needs of AFU, said Chief of Staff of Ukraine Victor Baloha.
According to the press service of the President, in accordance to the words of V. Baloha,  the final transfer of the Armed Forces of Ukraine to the recruitment for the army on the contract form, settlement of the sharp social problems of military men can be left the tasks on the verge of inaccessibility in future.
Chief of Staff said that President of Ukraine stated in the letter to Prime Minister Yulia Tymoshenko from February 21 the practical removal of the government from many important problems. The first accent, which made the President of Ukraine, was the increasing of the expenditures to the Defence Ministry for increasing fighting efficiency level of the AFU and its full recruitment for the army in the contract form till the end of 2010, providing with the new equipment, fulfillment of the social programs for military men and members of their families. Supreme Commander in Chief of the Armed Forces insists on giving 11.5 billion hrn additionally to 10.3 billion hrn, provided for the defence in the budget.
The Chief of Staff noted that transfer of the army to the professional base and increasing its fighting efficiency remains the task, on which the President of Ukraine has the wardship. The head of the state said that the last draft to army will be carried out next year.
If you see a spelling error on our site, select it and press Ctrl+Enter