Activists lit tires at the protest – a common practice at Ukraine's anti-government rallies in Kyiv late last year and early in 2014.
According to Umanets, the activists were protesting against the prosecution of suspects in the recent beating in Odessa of Nestor Shufrych - a former ally of ousted ex-President of Ukraine Viktor Yanukovych.
"At a time when Berkut company commander Sadovnik has been released, [even though he] is a suspect in the massacre of the people on Independence Square, [at a time] when the prosecutor's office sees no corpus delicti in the actions Dobkin, Kernes and that same Shufrych, who led the titushki (hired thugs) on the Maidan...  activists who, due to the inaction of the authorities,  resorted to the direct lustration of  traitors and criminals, were in literally one week all found and called in for questioning! " Umanets wrote.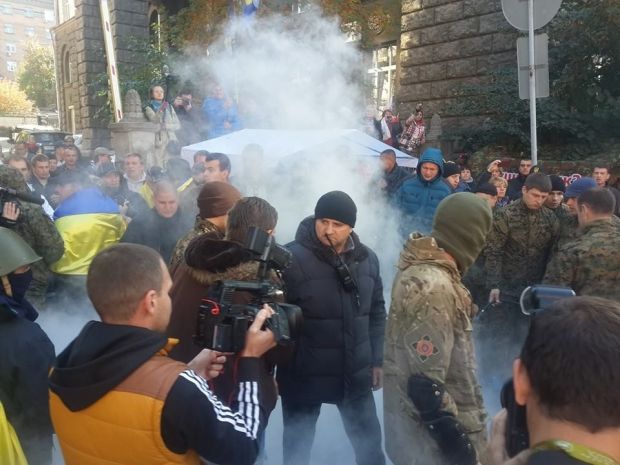 Smoke billows around protestors at a rally on Bankova street in Kyiv on Friday against the questioning of lustration activists / Photo by Vitaly Umanets