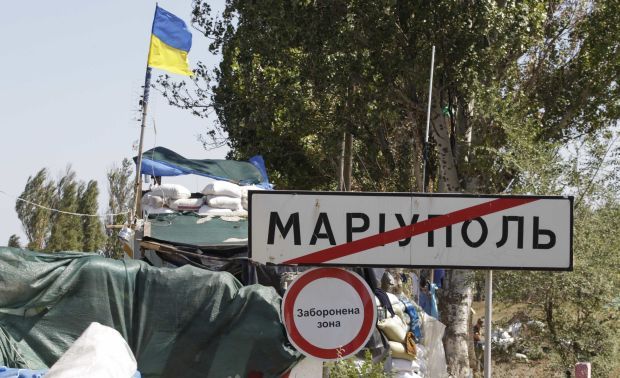 A checkpoint on the edge of Mariupol / REUTERS
"Checkpoints near the villages of Talakovka and Sartana and [Mariupol's] Vostochniy district are currently being attacked with mortars," the city's defense headquarters said in a statement.
"The Armed Forces of Ukraine are fighting back. The situation is under control, there is no danger to the city [of Mariupol]," the headquarters said.
According to Mariupol city news Web site 0629.com.ua, residents of the town of Iyichevck reported hearing the loud sound of shelling, and villagers in Talakovka reported black smoke in the sky.
"The walls of the houses are shaking really badly, worse than they were in the previous attacks, and we're having to hide in basements," villagers told the Web site.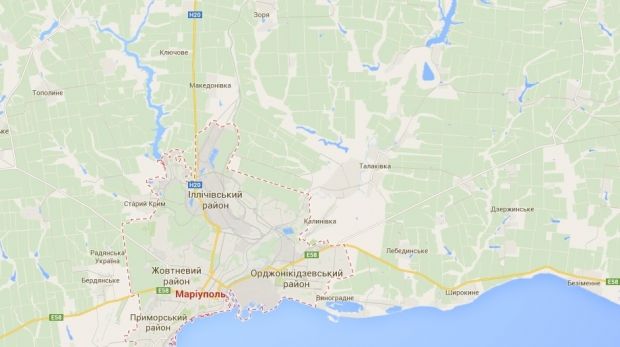 Mariupol and surrounding areas / Google Maps
According to sources in Ukraine's military, there is fighting near one of the checkpoints in the village Talakovka, with heavy artillery being used. A checkpoint in the Vostochniy district of Mariupol is also reported to have come under fire, and villagers from Zarya and Kalchyk said they had heard shooting on the highway leading to Donetsk. Mariupol defense staff confirmed that checkpoints in Talakovka, Sartana and Vostochniy districts were being attacked.
Local residents reported shelling with Grad rockets, but the headquarters could confirm only mortar attacks. According to the head of the village of Sartana, Stepan Mahsma, the village is quiet and the checkpoint next to it has not been attacked.
"There's fighting going on in Talakovke," Mahsma said.
"But the sound of shooting [here] is really loud, and residents are taking their children out of schools and kindergartens."
According to Talakovke village council, shelling of the checkpoint near the village started at 1130, and a gas pipeline was damaged in the fighting. The shelling stopped at 1230, and now villagers are emerging from hiding and inspecting their houses for damage.