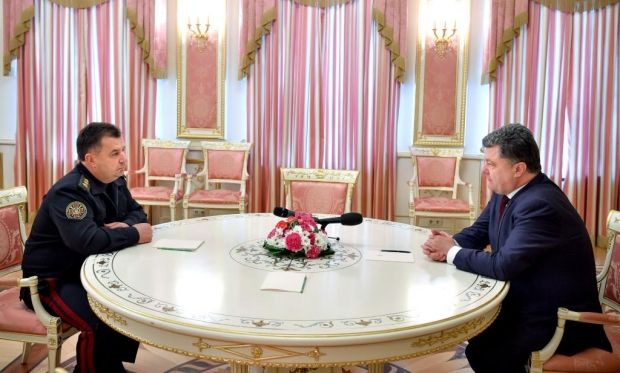 Photo by Presidential Press Service
"[I have] submitted to parliament the candidacy of National Guard Commander Stepan Poltorak for the post of Minister of Defense of Ukraine," Poroshenko tweeted.
 Yesterday it was announced that Poroshenko had accepted the resignation of Defense Minister Valery Heletei, which the ex-defense chief had himself submitted to the president.
 According to the press service of the president, during a meeting with Poltorak, Poroshenko praised the high organizational skills of Colonel-General Poltorak.
 "For me it was your basic professionalism and patriotism, and decency, [and] decisive steps in the construction from scratch of the National Guard, the discipline of the troops, [and their] hard fighting spirit," said Poroshenko.
The president said that the respect in the military for Poltorak had heavily influences the decision to nominate him for the post of defense minister.
 "I talked to the generals, and met with ordinary soldiers, with battalion commanders. My conversations with them convinced me of the correctness of my choice," said Poroshenko.
 According to the President, today the Ukrainian army faces a new environment.
"We are implementing a peace plan to build a powerful, deeply layered defense of Ukraine, and rebuilding the supply chain and logistics of the army. Issues of international cooperation, including military-technical and military cooperation with our partners from the EU, United States and other countries around the world, are being raised to a fundamentally different level," said the president.
Poltorak thanked the president for his trust, and said that he was honored to lead the armed forces in such a difficult time for the country.
 "A strong army is the guarantor of peace, and I will do everything possible to ensure that our army is really strong, fast, productive, and well trained and technically equipped," said Poltorak.
The President said that in the evening, at a meeting with leaders of parliament factions and groups on the eve of the meeting of the Verkhovna Rada on October 14, which is expected to consider a number of important laws for the country, he would insist that his proposed bill on the Anti-Corruption Bureau, which will help to overcome corruption, particularly in the army, be approved in full.
 As UNIAN reported earlier, on October 12 Poroshenko said that former Defense Minister Valery Heletei had tendered his resignation. He said that it was time to change the leadership of the military. The president expressed the hope that his candidate for the post would be supported on October 14 at a meeting of the Verkhovna Rada.
Poltorak is currently the commander of the National Guard, and is a former commander of the Interior Troops of Ukraine. He has a Ph.D., and is an associate professor.