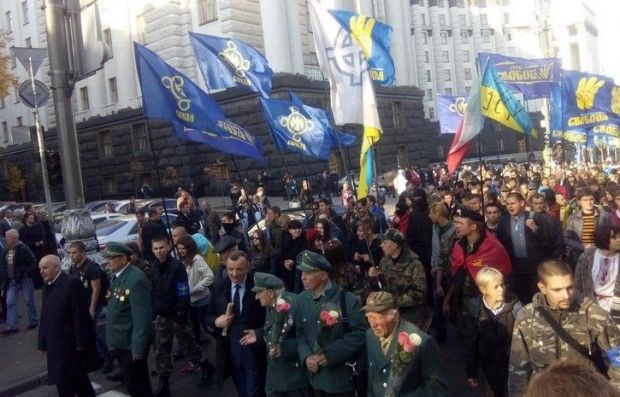 @vo_svoboda
Svoboda leader Oleh Tiahnybok told journalists that the party had taken the decision to quit the Rada in protest at parliament's failure to include on its agenda a vote on recognizing the OUN and UPA nationalist organizations at the state level.
He said he doubted the current parliament was capable of enacting the required legislation, or a law banning the communist ideology in Ukraine.
Tiahnybok also called on Svoboda party activists rallying outside the parliament building in Kyiv to disperse. He said Svoboda would hold rallies in other parts of the capital. He asked the activists to gather at the nearby Arsenal Square, and then march to the monument to Ukrainian national poet Taras Shevchenko in Kyiv's Shevchenko Park, where the rally would end.
He said Svoboda activists had taken action against "provocateurs" who earlier threw smoke bombs at the parliament building.
"We boxed them in," Tiahnybok said.
As UNIAN reported earlier, today Svoboda activists picketed parliament with the demand that it adopt a law on the recognition of the OUN and UPA as participants in World War II. Later about 200 people, wearing balaclavas and carrying the flags of the far-right Right Sector organization, threw a Molotov cocktail and smoke bombs at the Rada. The arrival of these activists occurred as MPs failed several times to vote to include on the Rada agenda the issue of recognizing the OUN and UPA.
Later, the group clashed outside the Rada with police, hurling fire crackers and attacking officers with sticks as they attempted to break through the police cordon around parliament.