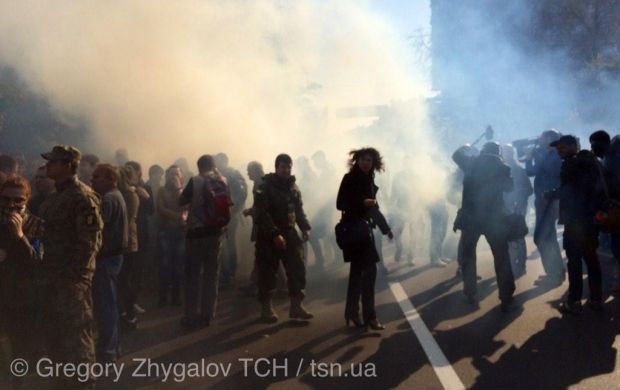 Photo by Gregory Zhygalov
A group of unidentified people attempted to break through a police line in front of the entrance to the parliament, the correspondent said.
 The police were reinforced with about a hundred of police in full riot gear. The protesters threw fireworks at the police and, using sticks, tried to break through the police cordon guarding the entrance to the building. The police officers used batons in response.
The activists chanted "Revolution!" and "Vote!" attempting to call on the MPs to vote for including into the agenda a draft law to officially recognize the Organization of Ukrainian Nationalists and the Ukrainian Insurgent Army as organizations who fought for Ukraine's independence in World War II.
The number of police officers guarding the parliament building is increasing, and some wounded police officers were taken inside the parliament building. There are about 2,000-2,500 people on the square near the parliament, and several ambulances are attending the scene.
 Today, on October 14, on the feast of Intercession, the All-Ukrainian Union Svoboda is organizing a traditional march, UNIAN reported earlier. Several thousand  Svoboda activists marched, in an organized column, through the streets of Kyiv to the parliament. The event had been going smoothly and peacefully. Then a group of unidentified people wearing balaclavas and holding Right Sector flags arrived at the parliament. They hurled Molotov cocktails and fireworks at the parliament building.