Russian ruble hits 41 to the dollar
Russia's faltering national currency the ruble hit a new historic low against the U.S. dollar on Wednesday, for a time exceeding RUR 41 to the dollar in trading on the Moscow Stock Exchange, Russian state news agency TASS has reported.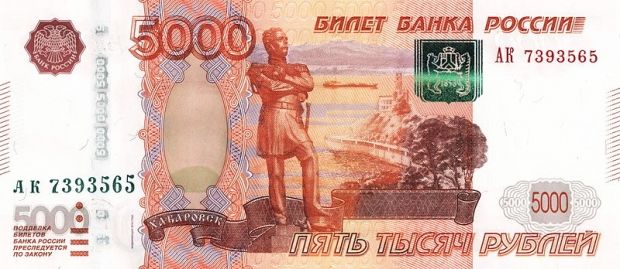 Wikipedia
Against the euro, the ruble slipped by 4 eurocents, to 51.87 rubles to the euro.
The Russian currency had clawed back some ground by 1010 Moscow time, and was trading at RUR 40.98 to the dollar, or six cents down on the previous day's close-of-trade figure.
The ruble rate under Russia's benchmark currency basket, weighted 0.45 to the euro and 0.55 to the dollar, rose by five cents to reach RUS 45.88.
Russia's national currency has been falling steadily in recent weeks due to lowering international oil prices and sanctions imposed by the West in response to the Kremlin's aggression against its neighbor Ukraine.
If you see a spelling error on our site, select it and press Ctrl+Enter