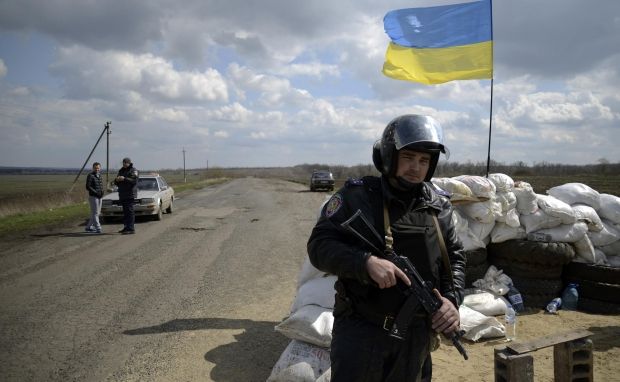 REUTERS
The OSCE mission said a Ukrainian checkpoint forty kilometers from Luhansk was attacked by the armed forces of the self-proclaimed Luhansk People's republic. It said there were 12 reported casualties, two of whom were confirmed by mission staff.
The Ukrainian authorities reported on the evening of October 13 that LPR fighters had approached a checkpoint between the villages of Khoroshe and Smile, forty kilometers northwest of the city of Luhansk, and delivered an ultimatum to the Ukrainian soldiers manning the checkpoint to either surrender or face attack, the OSCE said in its report.
The commander of the nearby Ukrainian army checkpoint at Frunze, 45 kilometers from Luhansk, told the OSCE mission on the morning of October 14 that overnight the checkpoint between Khoroshe and Smile had been surrounded by anti-Kyiv militants, and that the militants had attacked a Ukrainian convoy of three armored vehicles near Smile.
According to the commander, 12 soldiers were killed or wounded, and two Ukrainian armored personnel carriers destroyed in the fighting.
After unsuccessful attempts by the Ukrainian military in a tank and two armored personnel carriers to bring out the dead and wounded, members of the OSCE mission agreed with militants that LPR forces would evacuate the wounded and render them medical attention.
Two members of the OSCE team at the scene witnessed wounded Ukrainian soldiers and four burnt-out APCs. About a kilometer south of Smile they found fresh mortar impacts in the area surrounding the Ukrainian checkpoint.