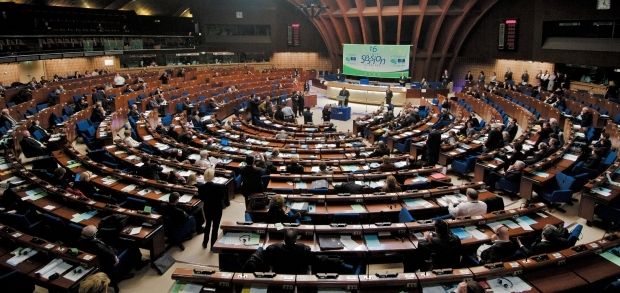 Council of Europe body recognizes aggression by Russia against Ukraine / photo Wikimedia.org
The document, on the issue of separatism in Ukraine and neighboring countries, was passed by an overwhelming majority of 77 for, and 22 against. Those voting against were representatives from Russia, Armenia, and some pro-Russian delegates from a few other countries.
The resolution officially recognized Russian military intervention in the events in Ukraine.
"Today, the Congress condemns Russia's military intervention in the east of Ukraine, and condemns all forms of pressure by Russia on its neighbours," the document reads.
"The security of this continent is seriously threatened by the Russian Federation's repeated failure to comply with international rules, and the principles and values of the Council of Europe that it signed up to when it joined the Organisation. Armed separatism, supported by mercenaries and the intervention of foreign troops, is the antithesis of all that the Congress stands for, and has created a humanitarian crisis that the national authorities and the international community must resolve together."
Russian members of the congress proposed seven amendments that would have stripped the resolution of all criticism of Russia, but these were rejected by the majority of the delegates. The Russians also attempted to introduce a clause in the document stipulating that the crisis "cannot be resolved by military means." However, this phrase was not included in the final text of the resolution.
"You make a crucial mistake if you think that [the Revolution of Dignity in Ukraine] was launched by American or other special services: Often events in the world happen in a different way,"  the rapporteur on the document, Congressman Marc Cools from Belgium, told the Russian delegation.
"We do not want to attack the Russian side. It is a great European power. But if you want a dialogue, you have to respect the person with whom you're holding it. "