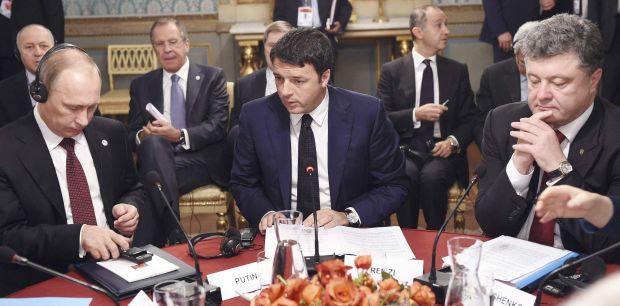 Russian President Vladimir Putin (left) sits with Italian Prime Minister Matteo Renzi (center) and Ukrainian President Petro Poroshenko (right) at talks on the crisis in Ukraine at an EU summit in Milan on Friday / REUTERS
The two presidents held a meeting along with top EU officials and EU member state leaders at the 10th ASEM Summit in a bid to shore up the shaky agreement reached in Minsk on September 5 to halt the conflict in the east of Ukraine.
According to an UNIAN correspondent, Barroso told journalists after the meeting that the key points of the talks were verification of the ceasefire, the holding of elections in the Donbas in line with Ukrainian legislation, and reestablishing control of Ukraine's border with Russia.
He said agreement was reached on the implement of the Minsk Protocol "to build confidence between the parties."
Russia has denied being a party to the conflict in the east of Ukraine, but large amounts of circumstantial evidence points to the Kremlin having been heavily involved in destabilizing the situation in the Donbas, supplying armored vehicles and troops to fuel the insurgency.
Trust between Kyiv and Moscow is at an all-time low: Putin himself denied that Russian troops were involved in the illegal annexation of Crimea by Russia in March, only to admit later that his troops had indeed been involved in wresting control of the peninsula from Kyiv.
Russia also denied that its troops were in eastern Ukraine, even though there have been reports of dozens, if not hundreds of Russian soldiers being killed in fighting in the Donbas. A BBC reporting team was beaten and robbed last month in southern Russia when it was investigating the secret burials of regular Russian soldiers whom relatives say died in Ukraine.
Meanwhile, questions remain over whether the insurgents themselves will respect the Minsk Protocol. Militants continue to attack Ukrainian army positions, in violation of the ceasefire, and they have said they will hold their own elections in the areas they control.
They have also threatened to shoot down drones operated by the OSCE that are supposed to monitor the areas of the border outside of the Ukrainian government's control, and declared that they aim to expand the area of their enclave to include the whole of Luhansk and Donetsk regions in the east of Ukraine.