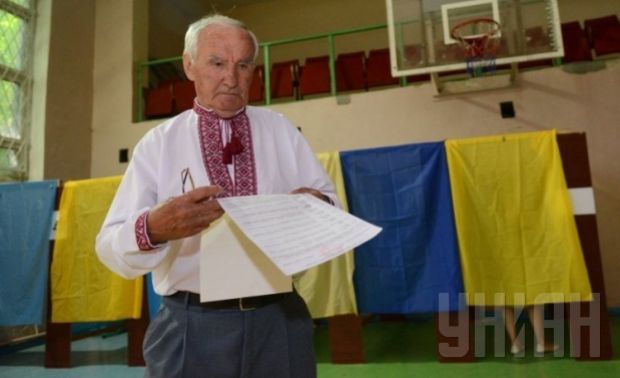 On polling day on October 26 PPI observers will monitor 213 constituences / Photo by UNIAN
According to UNIAN's correspondent, during a press conference PPI head Hennadiy Vorontsov said that the new computer system was of a kind that was unique in Ukraine.
"Using the insights and experience of previous elections, experts from Advanced Legal Initiatives, in conjunction with the IT-group of our organization, created and set up a unique hardware and software system [for monitoring elections]," Vorontsov said.
Vorontsov said that this system allows online access to information from observers on the results of parallel vote counts and exit polls, and to analyze this information.
"Also, the system can store and process data on violations of the legislation during the election process and [in the conduct of] public opinion polls," Vorontsov said, adding that the automated system also allows you to quickly assess the results of the voting.
According to him, because the system allows you to see a "dynamic image" on the day of the vote, it will make easier early detection of attempted vote fraud.
"The system allows you to display the time and place of surveys of voters, as well as the location of the observers at the polling stations, which suggests a high degree of reliability for the information received,"  said the head of the new system's development team, Volodymyr Reznik.
The algorithms used by system fully reproduce the main stages of the voting, from the opening of polling stations to the opening envelopes with ballots for recounts, as well as the sending of reports on the results of the voting.
"We are going to inform the media and the public as quickly as possible to about the voting and counting of votes," Vorontsov said.
He also said that on polling day observers from the PPI will monitor 213 constituencies and 5,040 polling stations. In general, the October 26 vote will be monitored by over 10,000 observers from PPI.
Vorontsov also noted that observers have recorded a significant amount of election law violations in the election campaign, particularly in Zhytomyr, Kirovohrad, Kyiv, Odesa and Lugansk regions.