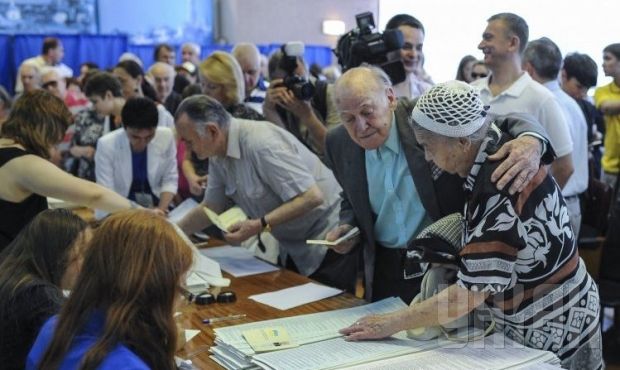 Some 0.2% of Ukrainians are willing to sell their vote for UAH 50 / Photo by UNIAN
This is according to a national survey of public opinion in Ukraine conducted by the Ilka Kucheriv Democratic Initiatives Foundation together with the Kyiv International Institute of Sociology from October 9-18, an UNIAN correspondent reports.
Asked "Are you personally willing to sell your vote for money?" 87.3% of the poll's respondents answered "Certainly not" (in October 2012, the figure was 82.9%); 1% said: "Yes, certainly - to anyone and for any amount of money" (in October 2012 - 1.5%); while another 4% responded, "Yes, but only for an agreed sum" (in October 2012 - 5.2%).
Another 5% of respondents said they found it difficult to answer the question.
A total of 3.6% of the respondents said they were willing to sell their vote for more than $500, and 0.2% - for UAH 50.
At the press conference where the results of the poll were presented, the coordinator electoral and parliamentary programs of the Support Civic Network Olga Ayvazovskaya said that a law had been published in the official government newspapers Holos Ukrainy and Uryadoviy Kurier on Wednesday that increases police powers to investigate cases of vote buying without court orders.
Ayvazovskaya noted that, according to legislative changes, "if there is a case of vote buying. and if it is related to a party or candidate, it is punishable by imprisonment of up to seven years, and any citizens who participate in bribery, that is, took certain material benefits – are to pay a fine of up to UAH 5,100, or be sentenced to up to two years in prison, or undergo correctional labor and restrictions on liberty for up to two years."
She said that the Criminal Code does not stipulate that it is necessary to prove that funds were received, or that a case of vote buying influenced the results of an election.
"So, all voters, candidates, journalists, who convey the key messages … need to understand that today … both sides [in vote-buying cases] will suffer very serious penalties," she said .
The survey was conducted in 110 localities in all areas of the country except the Crimea. The total number of those interviewed was 2,250, and poll's margin of error does not exceed 2.2%.