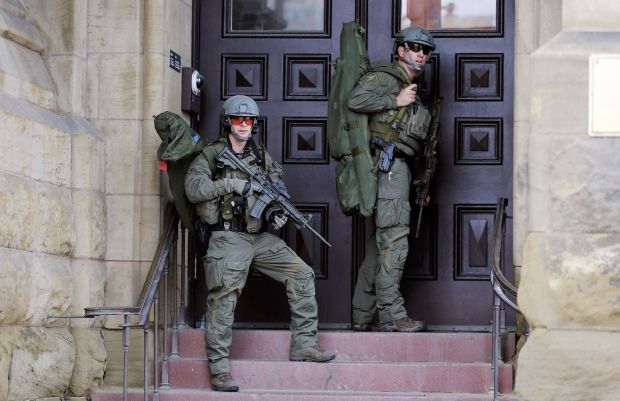 REUTERS
Other details about the incident are not available yet, according to TASS.
"A joint police operation is under way. Nobody has been held in custody," the city's police said.
Police said shootings had occurred in two places: at the Memorial to the all Canadians who served their country in battle during the First World War, and on Parliament Hill
"Contrary to the reports received earlier, the Rideau mall has not witnessed any incidents," the police.
The soldier who died has been identified by Canadian broadcaster CTV News as 24-year-old  Corporal Nathan Frank Cirillo of the Argyll and Sutherland Highlanders unit based in Hamilton, Ontario.
He was gunned down at around 0930 local time on Wednesday morning as he was on guard at the national war memorial in Ottawa. After killing Cirillo, the gunman ran, pursued by police, into the nearby parliament building, where several more shots were fired, and the area was put into lockdown by the police.
Police later reported that the suspected gunman had been shot dead.