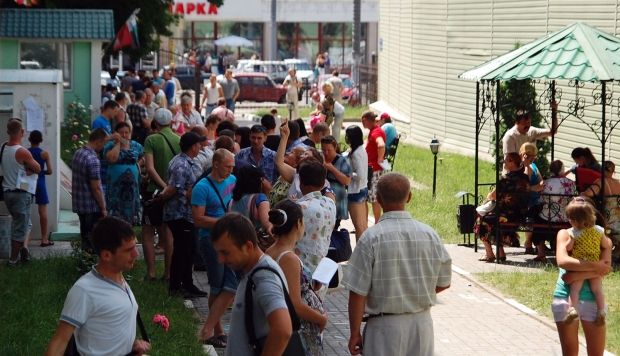 REUTERS
The Central Election Committee has reported that about 49,915 Ukrainians have registered to vote in the Russian Federation, which is 685 fewer people than in Ukraine's presidential election in May, according to German broadcaster Deutsche Welle.
Based on data from the Federal Migration Service of Russia, more than 200,000 Ukrainians who fled their homeland due to the fighting in the Donbas have asked for asylum in Russia. Nearly 400,000 residents of the Donbas have entered Russia in recent months, according to the United Nations.
Only six polling stations will be open in Russia on election day, and no plans were even made to set up additional polling stations in Russia for refugees from eastern Ukraine. Polling stations are set up solely on the basis of diplomatic institutions, said Svyatoslav Pikul, a lawyer for the Committee of Voters of Ukraine.
He also said that the people who have been displaced would not find it easy to decide who to vote for.
"Our citizens residing in Russia tend to vote for the parties supported in the south and east of Ukraine. [But] the Party of Regions is not participating in these elections, and the Communist Party of Ukraine (CPU) has lost its support altogether. So former supporters of these political forces are now confused and do not know who to vote for."
In previous elections the residents of Donbas traditionally supported pro-Russian forces - the Party of Regions and the Communist Party. Since the pro-Russian Opposition Bloc, the Communists and the Strong Ukraine Party are below the 5% threshold required to win seats in parliament, according to the latest polls, they now need to attract every vote they can. However, these votes are unlikely now to come from Ukrainian refugees in Russia.