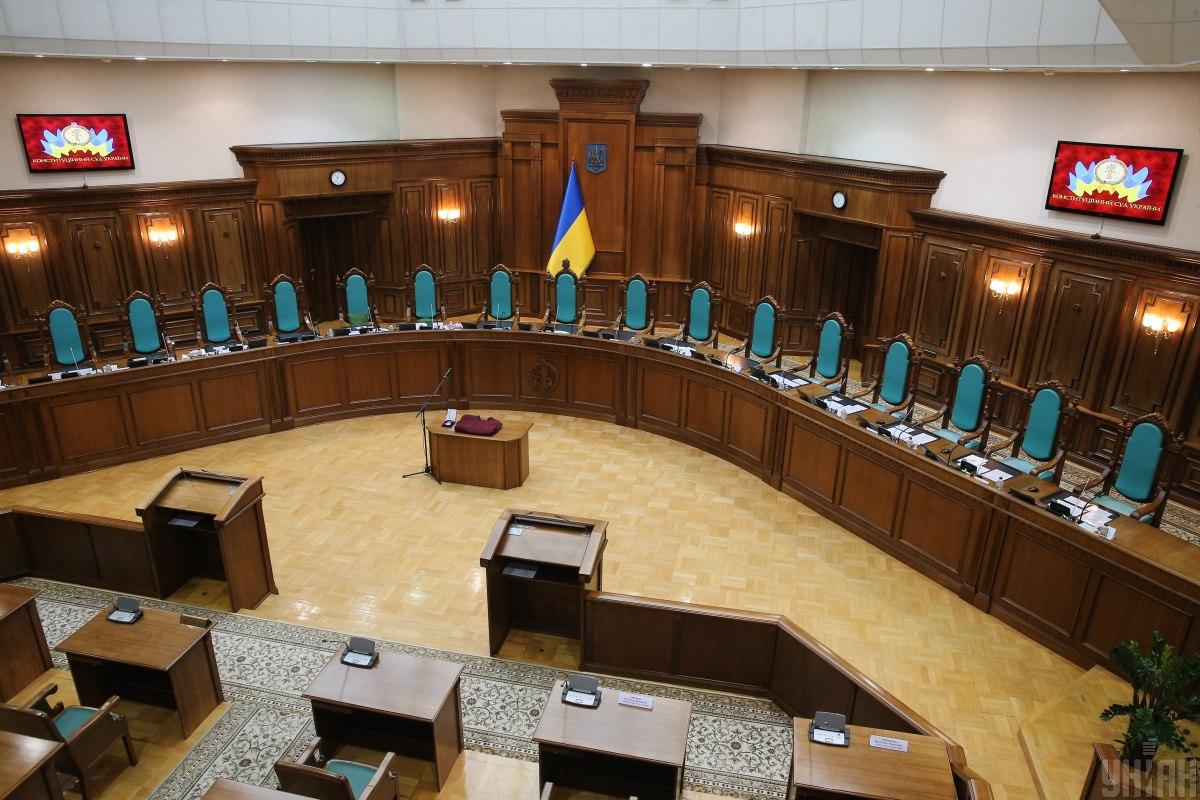 Photo from UNIAN, Volodymyr Hontar
President Volodymyr Zelensky has sufficient legislative grounds to dissolve the Constitutional Court following the latter's ruling on abolishing a number of anti-corruption norms.
That's according to the president's envoy to the CCU, Fedir Venislavsky, who spoke with RFE/RL's Ukrainian bureau.
"If we abstract from the situation a little and look at all the previous moves of the Constitutional Court of Ukraine on president's powers, there is a very interesting CCU judgment of May 8, 1997, (I believe it's No. 8-z). In that judgment, the Constitutional Court of Ukraine said that a president has the immediate right to intervene in crisis situations and act in accordance with the challenges that arise in the country and society in order to ensure state sovereignty, national security, public order, and human rights," Venislavsky said.
Read alsoEU calls on Ukraine to restore e-declaration of assets, work of anti-graft bodiesIn his opinion, the controversial CCU ruling to abolish a number of anti-corruption norms of Ukrainian legislation is precisely such a crisis situation, therefore President Zelensky has all rights to dissolve the Court, which he proposed in the bill he tabled in Parliament.
"This is an absolutely obvious crisis. It's quite evident that the Constitutional Court acted contrary to the interests of the country and society, thus having erased its own legitimacy. Therefore, the president's steps were absolutely adequate. They showed the public and our international partners that the president is a clear supporter of anti-corruption efforts," Venislavsky said.
The official added he would be ready to endorse Zelensky's bill, which also recognized the CCU decision on repealing some anti-corruption provisions "null and void".
Read alsoZelensky explains to Venice Commission chief need to sack Constitutional Court"Personally, I will be ready to vote, although I understand that there will be questions to me as a constitutionalist, but I understand that there are some situations in the country that need to be resolved through political and legal means," he explained.
Constitutional Court controvercy: Background
On October 27, the Constitutional Court made a decision on a motion filed by 47 Members of Parliament, having repealed Article 366-1 of the Criminal Code, which provided for criminal liability for inaccurate declaration by government officials of their income.
The Constitutional Court also recognized the provisions of laws on the audit of officials' e-declarations as unconstitutional and stripped the National Agency on Corruption Prevention (NACP) of powers to vet asset reports and identify conflicts of interest.
President Volodymyr Zelensky tabled bill No. 4288 in parliament to terminate the powers of all CCU judges. The document states, in particular, that the decision of the Constitutional Court of October 27 is "null and void."