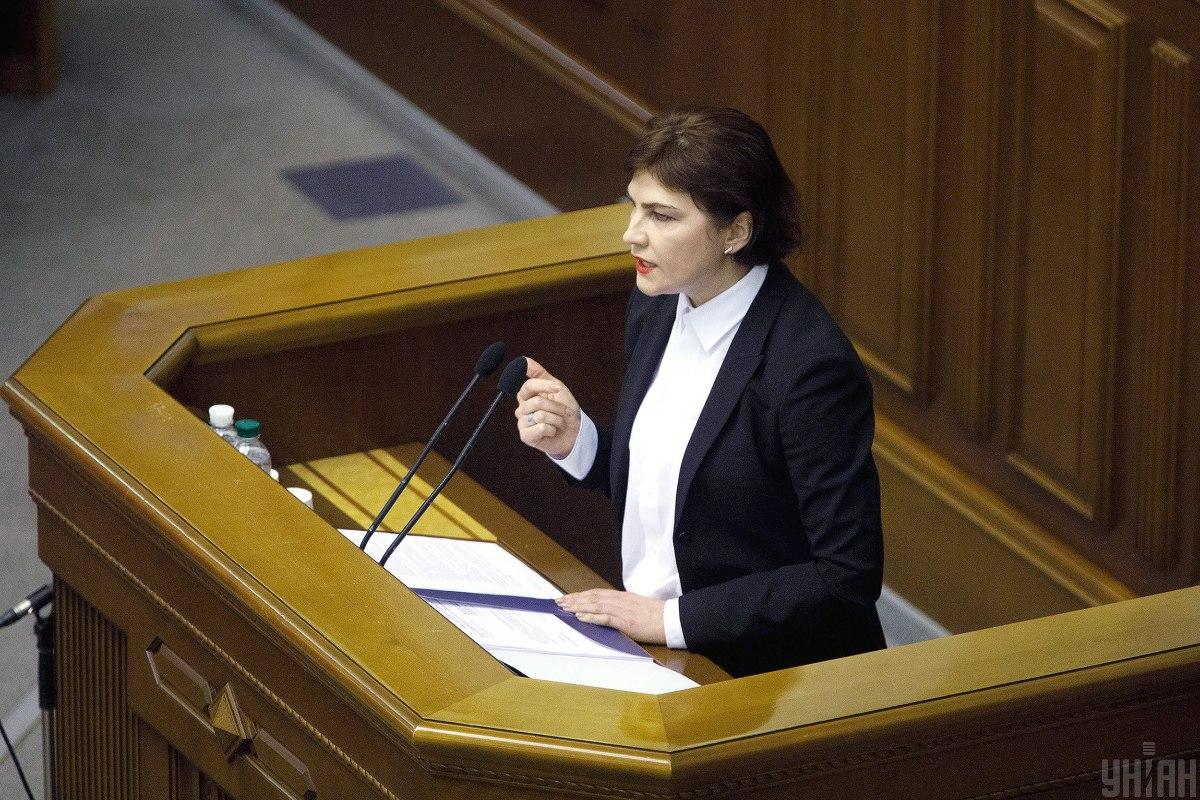 Photo from UNIAN
Prosecutor General of Ukraine Iryna Venediktova says she has signed a suspicion notice and a motion asking the court to remand in custody People's Deputy Oleksandr Yurchenko on corruption-related charges.
The statement, made via Facebook, marks a rollback from her previous decision not to approve charges over the alleged lack of evidence incriminating the MP.
"The criminal saga associated with the people's deputy sees its logical and legitimate continuation. Together with the SAPO [Special Anti-corruption Prosecutor's Office] prosecutors in this case, we spent several hours studying the materials (I emphasize – materials, not memos or drafts drawn up on my behalf) of this criminal proceeding, in As a result, I made a decision and, accordingly, undertook responsibility at the same time, to sign the suspicion notice and a petition to select a preventive measure – custody remand – for the deputy," wrote Venediktova.
Read alsoU.S. slaps sanctions on MP Andriy DerkachReferring to the recent information wave sparked over the delay in pressing charges against the MP, Venediktova said she has "zero tolerance to information attacks and attempts to manipulate the results" of her decisions.
"If law enforcers want to see a reliable partner in me, they must follow the letter of the law. I will not limit the constitutional rights of citizens with or without special status before I study the case file. This is my principled condition, and I'm not going to give it up. Influencing me through journalists or activists is in vain, which I've already proved many times with my action," the top prosecutor wrote, also recalling that "accidental leaks" of criminal case file materials to the media is illegal.
Read alsoKirovohrad governor, his accomplice detained on bribery charges – media (Photos)She suggested that on the eve of local elections, certain political forces might try to use procedural decisions of prosecutors at all levels to their own political benefit, to reflect their agenda.
"I am beyond politics. Offenses have no political features or immunities – none. And that's the point. The overall goal is a tough response to corruption in government. The conversation is short with violators of law," Venediktova said, adding that her procedural decisions come as a result of studying "professionally drafted case file materials submitted for consideration."
Corruption scandal in the Verkhovna Rada: background
On September 14, Deputy Chairman of the Holos parliamentary faction Yaroslav Zheleznyak said that Prosecutor General Iryna Venediktova should be invited to parliament to probe into a bribery case when a Member of Parliament allegedly demanded US$200,000 in bribe for the adoption of a particular draft law.
MP Geo Leros (non-faction) wrote on Facebook that National Anti-corruption Bureau detectives had allegedly caught aide to MP Oleksandr Yurchenko (the Servant of the People) red-handed on receiving a bribe.
Oleksandr Kachura, an MP with the Servant of the People faction, wrote on Telegram that Yurchenko had decided to withdraw from faction.
On September 15, Venediktova announced in parliament that she saw no reason to serve Yurchenko with charge papers in the bribery case.
Meanwhile, SAPO said that the aide to the lawmaker had been served with charge papers and is suspected of complicity in the bribery case involving a Member of Parliament.
According to the investigation, the assistant to the MP acted as an intermediary in obtaining US$13,000 for submitting proposals to a bill on recycling of solid household waste. He is also charged with the solicitation of US$200,000 as a bribe to make members of a parliamentary committee to support the amendments to the bill.
The aide to the MP is charged with Part 5 of Article 27 and Part 4 of Article 368 of the Criminal Code of Ukraine, i.e. complicity in a crime committed by a high-ranking official to obtain unlawful profit.