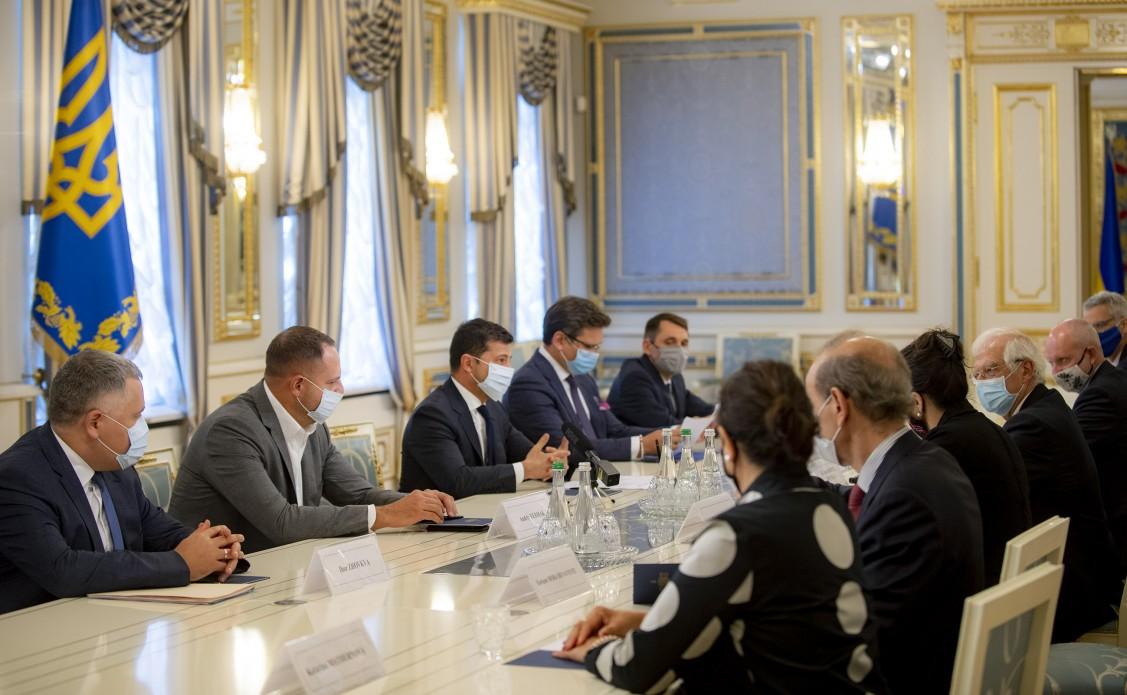 president.gov.ua
President Volodymyr Zelensky, during a meeting with Vice-President of the European Commission, EU High Representative for Foreign Affairs and Security Policy Josep Borrell, discussed issues of a peaceful settlement in Donbas and the situation in the temporarily occupied Crimea.
According to the press service of the President's Office, Zelensky thanked the EU top diplomat for the visit amid the coronavirus pandemic.
"During the meeting, key attention was paid to the issues of peaceful settlement in the east of Ukraine and the situation in the temporarily occupied Crimea," the statement says.
The EU High Representative was briefed on the security developments in Donbas and the progress in the implementation of agreements reached at the Normandy Four (Ukraine, Germany, France, Russia) summit in Paris in December 2019.
Zelensky noted that during the trip of EU officials to Donbas, scheduled for this week, they will be able to see firsthand how ceasefire is observed and what are the conditions for the Ukrainian military to serve in the Joint Forces Operation zone.
The president stressed "critical importance" of keeping the topic of ending the occupation of Crimea in focus of both the UN and the EU.
The question of creating a negotiating platform for ending the occupation of the Crimean peninsula was also raised.
"For us, the key issue is to set up a permanent platform where, first of all, humanitarian issues, issues of human rights, issues of Ukrainians living in the territory of the temporarily occupied Crimea, in general, issues of regaining our occupied territory would be raised," the head of state said.
Zelensky and Borrell also discussed preparations for the 22nd Ukraine-European Union summit, which will be held in Brussels on October 1. The president expressed hope that the joint statement to be adopted following the summit will properly reflect the level of both parties' ambitions to further deepen the strategic partnership and economic integration.
Russia's annexation of Crimea: background
In March 2014, Russia deployed its troops in Crimea and subsequently annexed the Ukrainian peninsula, having set up a sham "referendum" on its self-determination. The self-proclaimed Crimean authorities said 96.77% were in favor of accession to Russia.
On March 18, a so-called "agreement" was signed in the Kremlin on Crimea and Sevastopol's accession to the Russian Federation. Western powers never recognized the illegitimate annexation attempt by Russia. They introduced a number of economic sanctions against the Russian Federation in this regard.