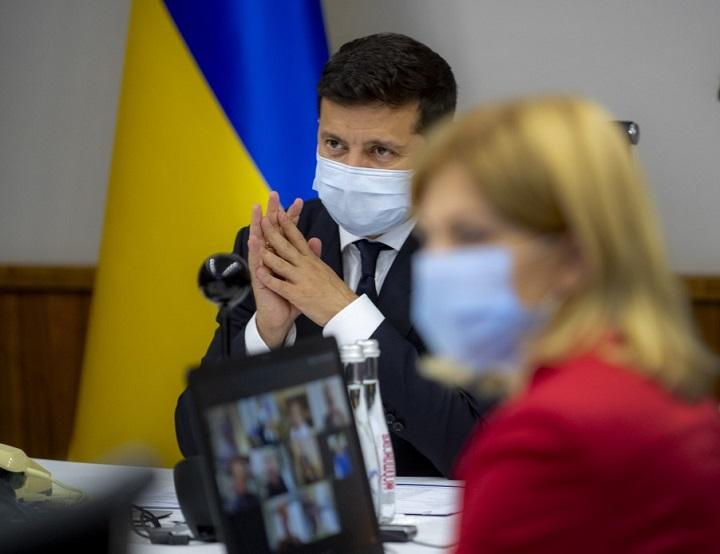 Zelensky during a video conference with MEPs / Photo from president.gov.ua
Ukrainian President Volodymyr Zelensky says the international platform regarding Crimea will discuss the release of Crimean Tatars and Ukrainians from prisons both in temporarily occupied Crimea and in Russia, as well as the end of the Russian occupation of the peninsula.
During a video conference with members of the European Parliament, he briefed them on Ukraine's initiative to create an international platform designed to improve coordination and cooperation to counter security threats posed by the Russian occupation of Crimea, as well as promoting the protection of Crimeans' rights, according to the president's press service.
Read alsoMFA says to invite Russia to partake in Crimea deoccupation platform
"Apart from the economy and money, geopolitical support is important to us. Some of the things we want to pay attention to are the appearance and our proposal of the Crimean platform," he said.
"A platform where we want to discuss the most important humanitarian issues, the issue of assistance to all Ukrainians – both Crimean Tatars and Ukrainians who have been imprisoned in Crimea and in Russia. This is the return, release of these citizens, as well as the end of the occupation of Crimea."
The video conference was attended by MEPs representing various political groups in the European Parliament, including Michael Gahler (Germany), Petras Auštrevičius (Lithuania), Niclas Herbst (Germany), Frédérique Ries (Belgium), Elżbieta Łukacijewska (Poland), and Włodzimierz Cimoszewicz (Poland).
Background
The previous EU-Ukraine summit was held in Kyiv on July 8, 2019.
The 22nd Ukraine-EU summit is scheduled for October 6; it is to be hosted by Brussels.