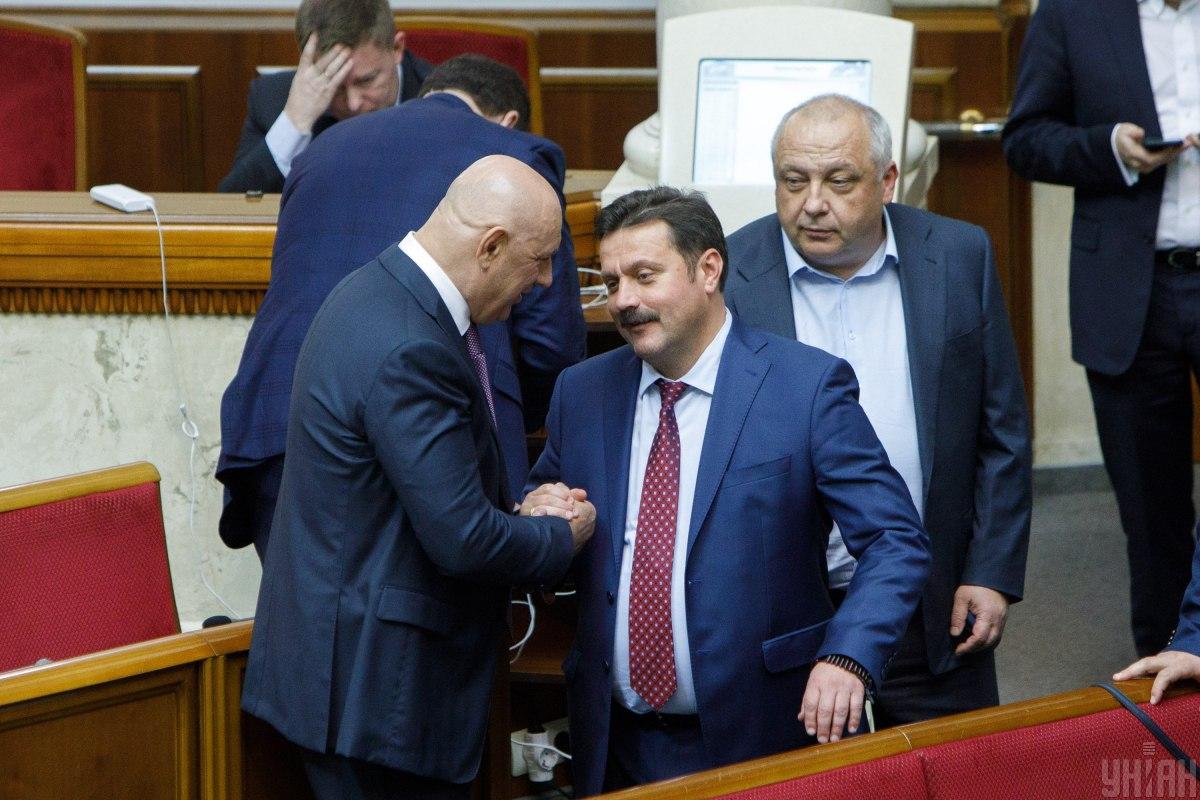 Photo from UNIAN
Ukrainian MP Andriy Derkach claims millions of dollars were withdrawn from Ukraine to the accounts of a company affiliated with Hunter Biden, son of former U.S. Vice President Joseph Biden.
Speaking at a Kyiv press conference on Wednesday, September 16, Derkach said he was presenting "evidence of the siphoned through financial holes of millions of dollars stolen from the Ukrainian people, laundered with the help of banks and 'laundromats' in various jurisdictions, and with their subsequent transfer to the accounts of the Biden family's company," an UNIAN correspondent reports.
"Every word we have uttered is supported by documents with figures and records that have been provided to us by investigative journalists, as well as people with knowledge about corruption schemes," the MP said, adding the evidence of "international corruption" and "external control of Ukraine" will be submitted to Ukraine law enforcement.
Former Deputy Head of the Ukrainian Prosecutor General's Office Department of International Legal Cooperation, Kostiantyn Kulyk, who also spoke at the press conference, said he had been contacted by two foreign citizens, whom he didn't name, but who claim they "were engaged in laundering millions of dollars by [former minister of ecology and natural resources Mykola] Zlochevsky" with the "subsequent withdrawal of these millions to the accounts of Burisma and those of the Biden family's company."
At the press conference, a video was aired showing two people with their faces blurred, one of whom is allegedly is a Latvia national. He told how Mykola Zlochevsky had allegedly laundered money through offshore firms.
A "witness" from Latvia claims "Mykola [Zlochevsky] had a lot of unaccounted cash, about US$10 million per month. This money was transferred to non-cash abroad under fictitious contracts. The sums would flow through Latvian banks."
"Zlochevsky's money was put in hryvnia to the accounts of Ukrainian companies. Later, based on foreign economic contracts, it was converted into U.S. dollars. After that, the money was transferred to the accounts of the Latvian PrivatBank," the person said, adding that from November 2014 to October 2015, payments were allegedly made in the same amount, namely US$83,000 per month, from Burisma accounts to the account of the Rosemont Seneca, the U.S. company co-owned by Hunter Biden.
According to Kulyk, payments in favor of that company totaled over US$3.4 million. The money went from Rosemont Seneca Boa to the accounts in Morgan Stanley, he claimed.
According to one of the witnesses, money was transferred similarly to former President of Poland Alexander Kwasniewski. This is about EUR 1 million for "consulting services."
Derkach tapes: background
On May 19, 2020, Ukrainian MP Andriy Derkach, an ally of U.S. President Donald Trump's lawyer Rudy Giuliani, released heavily edited audio recordings he said he had received from "investigative journalists" of what he claims are phone conversations between former U.S. Vice President Joe Biden, former State Department head John Kerry, and former Ukrainian President Petro Poroshenko made at the time the said politicians held the said offices. The conversations, in Derkach's opinion, testify to "international corruption" and Ukraine being "governed" from beyond.
Ukrainian President Volodymyr Zelensky has asked that his country be left out of November's U.S. presidential election after Derkach published tapes presumably intended to affect Joe Biden, the rival of incumbent President Donald Trump.
Volodymyr Zelensky denied involvement in the first portion of leaks last month of conversations between ex-U.S. Vice President Joe Biden and former President of Ukraine Petro Poroshenko, his predecessor, and told the Telegraph he did not want the scandal to undermine Ukraine's strategic alliance with the United States.
Audio quality and background noises in leaked tapes of what MP Derkach says are phone conversations between Petro Poroshenko and U.S. officials suggest they were recorded on the Ukrainian side, in the office where Poroshenko held talks with his counterparts.
The investigation has been launched into eavesdropping on presidential communications.
Seven ex-ambassadors of the United States of America to Ukraine have addressed politicians of both countries over the opening of proceedings regarding alleged meddling by the then U.S. Vice President Joe Biden in the then Ukrainian Prosecutor General Viktor Shokin's activity. "We strongly condemn these efforts to divide our two countries and call on officials in both to avoid steps that will only erode the bilateral relationship and alienate our countries from one another," they said in a joint statement posted by the Atlantic Council on May 26.
Foreign Minister of Ukraine Dmytro Kuleba said the U.S. had not sent any inquiries regarding the leaked recordings
On June 22, Derkach convened a press conference to release what he said were leaked recordings he allegedly got from "investigative journalists" of communications between ex-President Petro Poroshenko and ex-U.S. Vice President Joe Biden, which, in his opinion testify to "international corruption" and Ukraine being "governed" externally.
On July 9, Derkach released another part of the recordings of Poroshenko's purported conversations with Biden and Russian President Vladimir Putin.
On September 10, U.S. Treasury imposed sanctions on Derkach over his "efforts to influence the 2020 U.S. presidential election," branding him a "Russian agent."