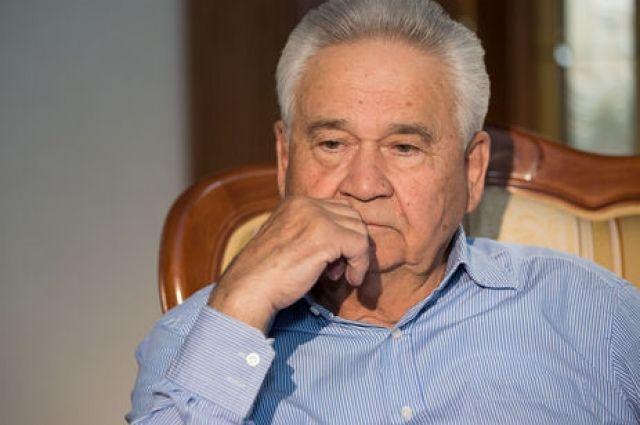 Vitold Fokin spoke up for pardoning enemy troops in Donbas / snap
People's Deputy with the ruling Servant of the People party Yehor Chernev has slammed criticism on Vitold Fokin, deputy chair of Ukraine's delegation at the Donbas settlement talks in Minsk, for his earlier backing of the idea to pardon enemy troops despite crimes committed in the warzone.
"There can be no pardon for militants who killed Ukrainian military," Chernev, who is also Chairman of the Ukrainian delegation to the NATO Parliamentary Assembly, wrote on Facebook on August 31.
"There must not be a special status for the entire territory of Donetsk and Luhansk regions," he stressed, pointing to the statement by Fokin, the first prime minister of Ukraine.
Read alsoUkraine's first PM stands for pardoning enemy troops in DonbasChernev reminded Fokin that "every meter of Ukrainian land in Donetsk and Luhansk regions, which [Ukrainian forces] managed to defend, regain, and "gnaw out of the clutches" of Russian and pro-Russian mercenaries, is drenched in blood of Ukrainian soldiers."
"And you, Mr. Fokin, have no right to decide on the fate of these territories and their inhabitants. People who actually surrender their national interests and openly play up to the enemy have no right to represent our country," he wrote. "Therefore, I demand that Fokin be pulled from the TCG! I ask my colleagues to support the call," Chernev stressed.
Fokin's infamous statement: background
Fokin has recently said he is in favor of granting special status to the entire Donetsk and Luhansk regions, not just their occupied parts.
The official pointed his stance on the special status, answering the question about the idea of pardon to Russian-backed militants.
According to Fokin, many crimes have been committed "on both sides" and they must be investigated, while perpetrators must be punished.
Fokin also noted that he was ready to travel to the occupied part of Donbas to negotiate with the enemy if the president or parliament orders so.
He says the move is also supported by Head of the Ukrainian delegation to the TCG Leonid Kravchuk.
Interior Minister Arsen Avakov said Fokin's statement was of provocative nature and not in line with Ukraine's national interests.