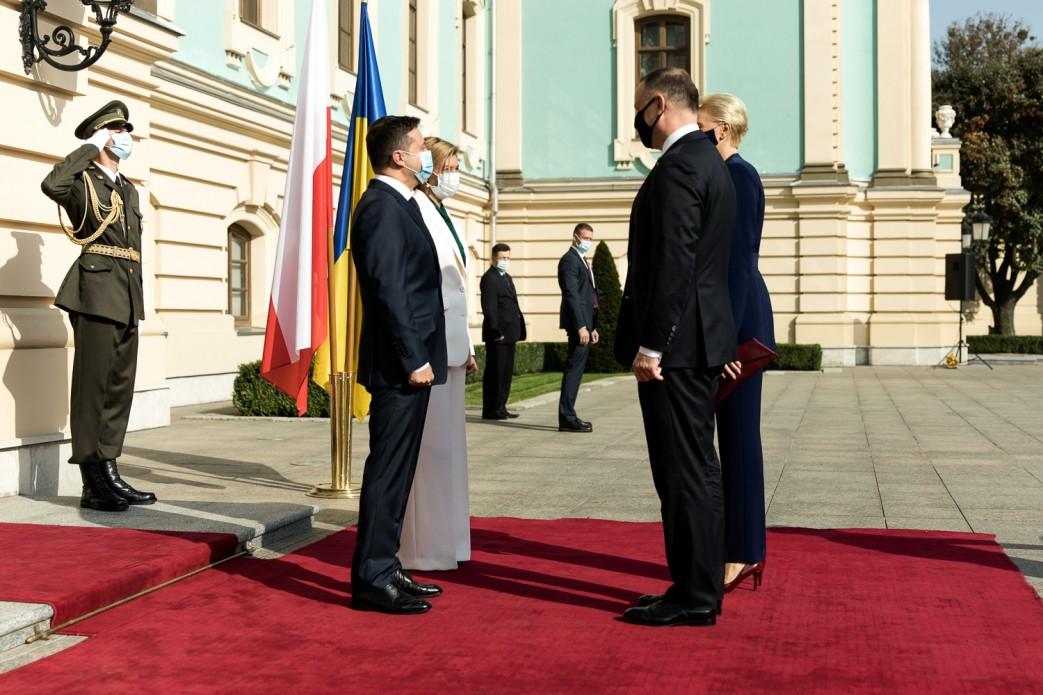 president.gov.ua
President Volodymyr Zelensky has expressed gratitude to Polish President Andrzej Duda for supporting Ukraine in the war with Russia.
The statement came during negotiations between the two delegations at the Mariinsky Palace in Kyiv. The opening speeches were broadcast by the Office of the President of Poland on Twitter.
Zelensky expressed gratitude to Duda for his visit to Ukraine despite the coronavirus pandemic, and expressed confidence that it the visit will be effective.
Read alsoZelensky, Duda discuss issues of national remembranceAlso, Zelensky said developing economic relations between Ukraine and Poland amid the COVID-19 pandemic is a priority.
"It is important that the trade turnover between our countries increases and economic relations continue," he stressed.
"I thanked the president and I am grateful to your people for the systemic support for sovereignty and territorial integrity in the war in eastern Ukraine against Russian aggression," Zelensky said.
Duda visit: Background
On Sunday, October 11, President Andrzej Duda of Poland arrived in Ukraine on a three-day official visit. On Monday, October 12, he is meeting with President Volodymyr Zelensky, Prime Minister Denys Shmyhal, Chairman of the Verkhovna Rada Dmytro Razumkov.
According to the Office of the Polish President, political negotiations will focus on bilateral cooperation, Ukraine's Euro-Atlantic aspirations, as well as regional issues, including the situation in Belarus. The parties will also talk historical issues. Heads of the institutes of national memory are set to meet.
The third day of the visit – Tuesday, October 13 – will be devoted to economic issues and will be held in Kyiv and Odesa. Two economic agreements will be signed. Outside the Polish Embassy in Kyiv, ​​Duda will unveil a monument to trade unionist Anna Valentinovich, who died in a plane crash in Smolensk in 2010.