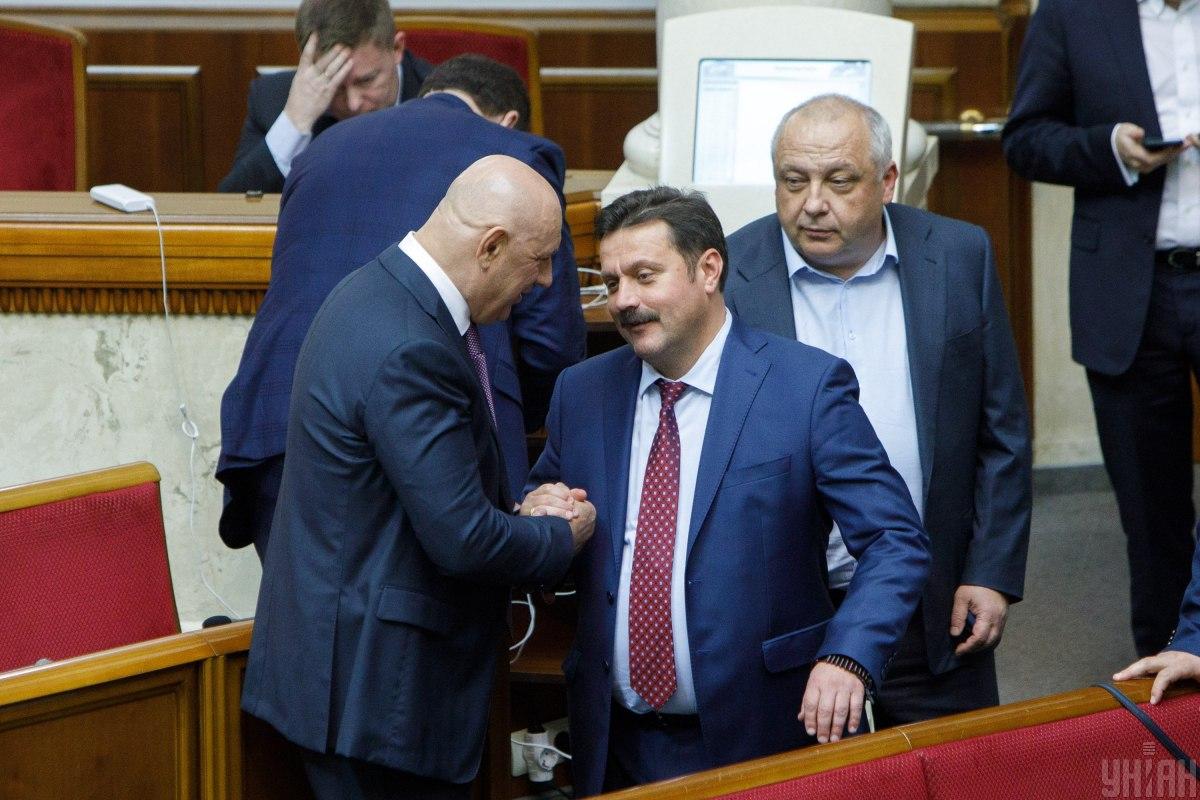 Photo from UNIAN
U.S. Treasury has imposed sanctions on Andriy Derkach, a Ukrainian parliament member, pursuant to Executive Order 13848.
The restrictions have been introduced over his "efforts to influence the 2020 U.S. presidential election," the U.S. State Treasury said in a statement released on September 10.
"Derkach, a Member of the Ukrainian Parliament, has been an active Russian agent for over a decade, maintaining close connections with the Russian Intelligence Services," the statement reads.
It says Derkach has "directly or indirectly engaged in, sponsored, concealed, or otherwise been complicit in foreign interference in an attempt to undermine the upcoming 2020 U.S. presidential election."
The move to introduce sanctions, U.S. officials say, is focused on "exposing Russian malign influence campaigns and protecting our upcoming elections from foreign interference."
Read alsoU.S. considering sanctions if Russia intervenes in Belarus militarily – media"This action is a clear signal to Moscow and its proxies that this activity will not be tolerated. The Administration is working across the U.S. Government, and with state, local, and private sector partners, to make the 2020 election secure," the statement reads.
Along with "other Russian agents, Derkach employs "manipulation and deceit to attempt to influence elections in the United States and elsewhere around the world," said Treasury Secretary Steven T. Mnuchin.
Derkach's "election influence efforts," as per U.S. Treasury
The U.S. officials say Derkach waged a "covert influence campaign" – from at least late 2019 through mid-2020 – centered on cultivating "false and unsubstantiated narratives" concerning U.S. officials in the upcoming 2020 presidential election.
His efforts aimed to spur corruption investigations in both Ukraine and the United States "designed to culminate prior to election day."
The narratives were pushed in Western media through coverage of press conferences and other news events, including interviews and statements, the statement adds.
Between May and July 2020, Derkach released "edited audio tapes and other unsupported information with the intent to discredit U.S. officials." Also, the U.S. Treasury says, he "levied unsubstantiated allegations against U.S. and international political figures."
Derkach "almost certainly targeted" the U.S. voting populace, prominent U.S. citizens, including members of the U.S. government, "based on his reliance on U.S. platforms, English-language documents and videos, and pro-Russian lobbyists in the United States used to propagate his claims."
"Today's designation of Derkach is another example of the Treasury department promoting accountability for Kremlin-linked individuals seeking to undermine confidence in U.S. democratic processes," the statement reads.
"Russia uses a variety of proxies to attempt to sow discord between political parties and drive internal divisions to influence voters as part of Moscow's broader efforts to undermine democratic countries and institutions," the U.S. Treasury has noted.
Derkach tapes: background
On May 19, 2020, Ukrainian MP Andriy Derkach, an ally of U.S. President Donald Trump's lawyer Rudy Giuliani, released heavily edited audio recordings he said he had received from "investigative journalists" of what he claims are phone conversations between former U.S. Vice President Joe Biden, former State Department head John Kerry, and former Ukrainian President Petro Poroshenko made at the time the said politicians held the said offices. The conversations, in Derkach's opinion, testify to "international corruption" and Ukraine being "governed" from beyond.
Ukrainian President Volodymyr Zelensky has asked that his country be left out of November's U.S. presidential election after a Derkach published tapes presumably intended to affect Joe Biden. 
Volodymyr Zelensky denied involvement in the first portion of leaks last month of conversations between ex-U.S. Vice President Joe Biden and former President of Ukraine Petro Poroshenko, his predecessor, and told the Telegraph he did not want the scandal to undermine Ukraine's strategic alliance with the United States. 
Audio quality and background noises in leaked tapes of what MP Derkach says are phone conversations between Petro Poroshenko and U.S. officials suggest they were recorded on the Ukrainian side, in the office where Poroshenko held talks with his counterparts.
Investigation has been launched into eavesdropping on presidential communications.
Seven ex-ambassadors of the United States of America to Ukraine have addressed politicians of both countries over the opening of proceedings regarding alleged meddling by the then U.S. Vice President Joe Biden in the then Ukrainian Prosecutor General Viktor Shokin's activity. "We strongly condemn these efforts to divide our two countries and call on officials in both to avoid steps that will only erode the bilateral relationship and alienate our countries from one another," they said in a joint statement posted by the Atlantic Council on May 26.
Foreign Minister of Ukraine Dmytro Kuleba said the U.S. had not sent any inquiries regarding the leaked recordings.