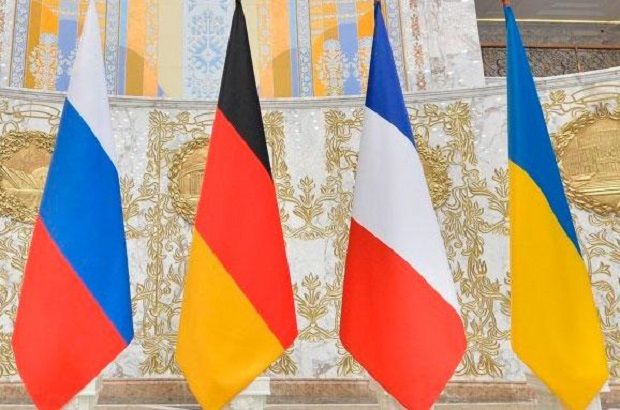 Zelensky's Office reveals details of Normandy Four advisors' meeting / Photo from eurointegration.com.ua
The Office of the President of Ukraine has revealed details of the meeting of political advisors to the Normandy Four leaders held on Friday, September 11.
Details of Friday meeting
The sides have discussed in detail the process of implementing the agreements of the Normandy Four summit held in December 2019, as well as the details of negotiations within the Minsk negotiating group, as reported on the presidential website.
"The participants have backed Ukraine's call on the need to take comprehensive measures to extend a sustainable ceasefire [in Donbas]," reads the report.
Head of the President's Office Andriy Yermak said Ukraine would do everything to preserve the truce and prevent it from being disrupted.
"Like no one else, we are interested so that Ukrainian servicemen and civilians no longer die, as it has happened for six years," he said.
The release of prisoners and access of the Red Cross to them were among other topics of the talks.
"The implementation of the proposals presented by the Ukrainian side gives reason to expect progress in the access of international human rights organizations to detainees in the near future," the President's Office said.
The participants in the meeting have agreed to meet in the same format over the next weeks and continue discussing the implementation of the agreements of the 2019 Paris summit.
Normandy Four: Latest developments
On August 22, Zelensky said advisers to the Normandy Four leaders were originally scheduled to meet on August 28, to be followed by a foreign ministers' meeting and a summit of the Normandy Four leaders.
The countries were to be represented by Deputy Head of Russia's presidential administration Dmitry Kozak, Head of the Ukrainian President's Office Andriy Yermak, aide to the German Chancellor for foreign policy Jan Haecker, and French president's adviser Emmanuel Bonne.
On August 25, it became known that the meeting had been postponed.
On September 4, Ukraine's Foreign Minister Dmytro Kuleba said the Normandy Four foreign ministers would hold a meeting in September, after the advisers to the countries' leaders meet.
On September 8, Ukrainian President Volodymyr Zelensky said the meeting of advisers to the Normandy Four leaders would take place in Berlin on September 11.
On September 9, Kremlin Press Secretary Dmitry Peskov confirmed the participation of Deputy Head of Russia's presidential administration Dmitry Kozak in the Normandy Four advisers' meeting.
On September 11, Yermak arrived in Berlin to participate in the meeting.
Late on Friday, Kozak said parties had exchanged views but no breakthrough was achieved at the meeting.