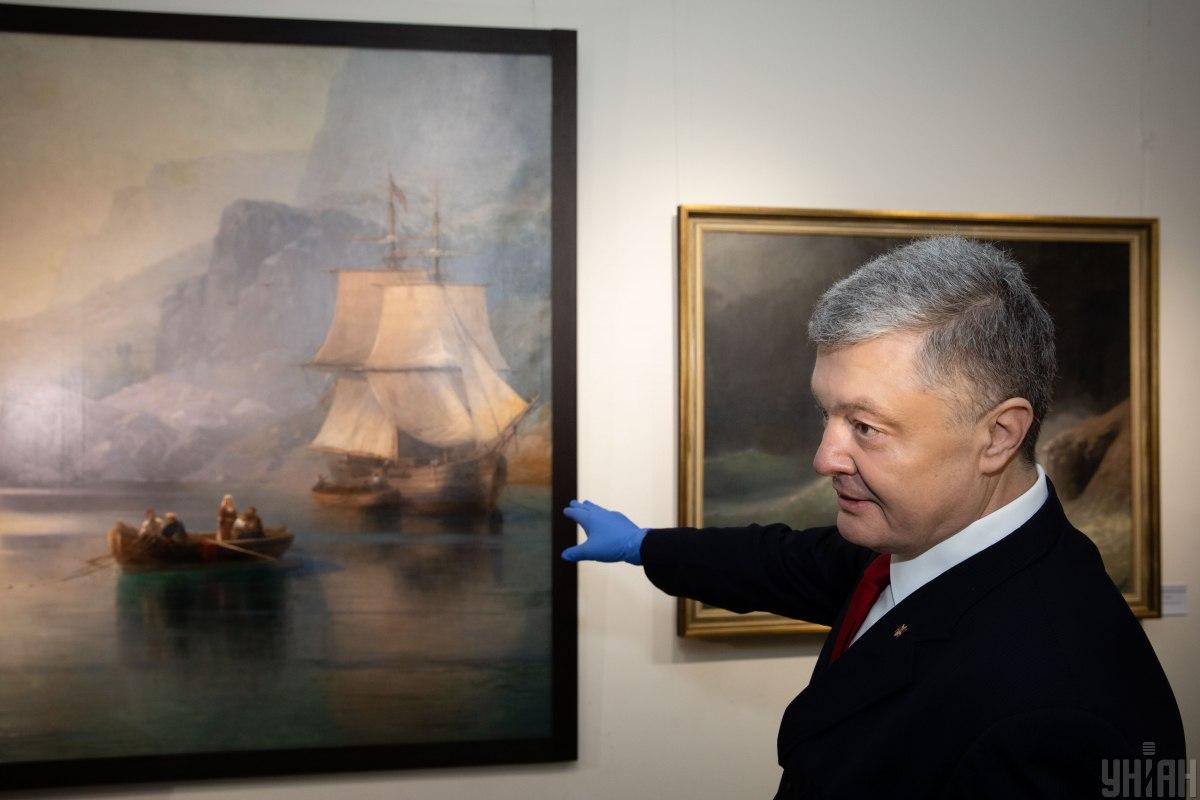 The SBI says Poroshenko had left before its investigators arrived / Photo from UNIAN
The State Bureau of Investigation (SBI) says its agents went to Kyiv's Ivan Honchar Museum where former Ukrainian President Petro Poroshenko was expected to attend a public event, therefore, they planned to serve a summons on him for questioning in the case of the so-called "Poroshenko's paintings."
The SBI emphasizes that the fifth president of Ukraine had repeatedly been notified of the summons for interrogation at the Bureau, but had never appeared.
Read alsoRFE/RL: Poroshenko fails to appear for questioning as witness in illegal transfer of paintings
"It became known from media reports that he was in the Honchar Museum. In order to hand over the summons for interrogation and conduct investigative actions, SBI officers went to the Honchar Museum," the SBI said in a statement  on May 26. "Petro Poroshenko, having learned about the possible arrival of SBI investigators, left the museum where his wife was also present."
"It was Poroshenko's wife who, as a relative of the witness, was given the summons for the next interrogations in keeping with the Code of Criminal Procedure of Ukraine. We would like to stress that the SBI officers acted in accordance with the Criminal Procedure Code of Ukraine," the Bureau said.
The SBI also accused the museum's administration and other individuals of obstructing the conduct of the investigative actions. "Given the events that took place in the museum, the SBI's special unit was involved to properly conduct the necessary investigative actions. No measures of physical coercion were used by them while on duty. The investigative actions were over," the statement said.
As UNIAN reported earlier, it became known on May 22 that ex-president Poroshenko had urgently been summoned to the Bureau for questioning as a witness on May 26 in a criminal proceeding probing into the transfer of 43 paintings across the customs border of Ukraine in circumvention of customs control. Poroshenko failed to appear for interrogation.
On the afternoon of May 26, SBI investigators arrived at the Ivan Honchar Museum to conduct urgent investigative actions and search the museum's premises "in order to preserve the assets [paintings]." They did not present any search warrant.
The director of the museum, Petro Honchar, said that the SBI agents had broken the entrance door of the premises and had not let him get into the building. He also added that Poroshenko had not commissioned his administration to relocate the paintings that were on exhibit at the museum.