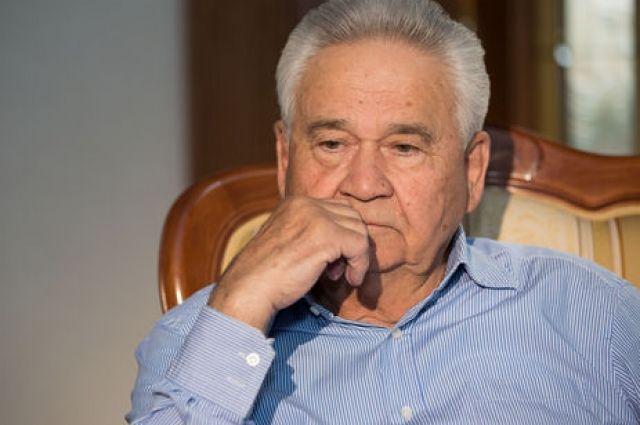 Vitold Fokin / snap from video
Ukraine's new top envoy, the country's first President Leonid Kravchuk, came to the working meeting of the country's delegation to the Trilateral Contact Group on Donbas settlement, bringing along Vitold Fokin, ex-prime minister who could also take up a position on the team.
The meeting lasted for about three hours, while Fokin's status remains unclear as he has not yet decided whether he would accept the offer to join the delegation, said Sergiy Garmash, a Donbas-born chief editor of the Ostrov outlet, who is part of the Ukrainian negotiating team representing certain areas of Donetsk and Luhansk regions.
"So we met. Basically, Kravchuk was briefed on the latest developments at subgroups. He voiced some ideas. For example, on granting Donetsk and Luhansk regions the status of free economic zones. Or on making delegation's work more open to public. My overall impression is positive. He didn't voice or suggest anything treasonous. I asked directly if he had contacts with [Putin's political operative in Ukraine Viktor] Medvedchuk. The answer was that there had been no contacts for four years. Moreover, according to his rhetoric, it's apparent he watches Medvedchuk's TV channels, although he realistically assesses the information presented there," said Garmash.
Read alsoKravchuk roots for "dialogue" to resolve Donbas crisis
At the same time, he stressed it was Fokin's words that surprised him.
"I haven't heard for a long while the expression 'people of Donbas' in my circle. It's apparent he watches too much TV... There was an impression that the ex-prime minister had arrived not from a village outside Kyiv, but from the occupied territory. But this is also useful. I just wish he's sincere in his concern for the people and the country, while everything else (if he agrees to work in the delegation) will be erased by the harsh realities of Moscow's unwillingness to go for any compromises," the journalist is convinced.
Garmash believes that no revolutionary shifts are being plotted in Minsk talks on Donbas.
"This can't be done by individual members, even in the rank of head of delegation. It's the incumbent president who determines the policy. Deputy Prime Minister [Oleksiy] Reznikov remains the main moderator and generator – he has real mechanisms to this end. Any other ideas, no matter who they come from, are put up for discussion, some suggestions, probing the opponent or promising carrot – no more than that," explained Garmash.
As UNIAN reported earlier, Leonid Kravchuk said earlier that first Prime Minister of Ukraine (1990-1992) Vitold Fokin could become a member of the Trilateral Contact Group on Donbas.