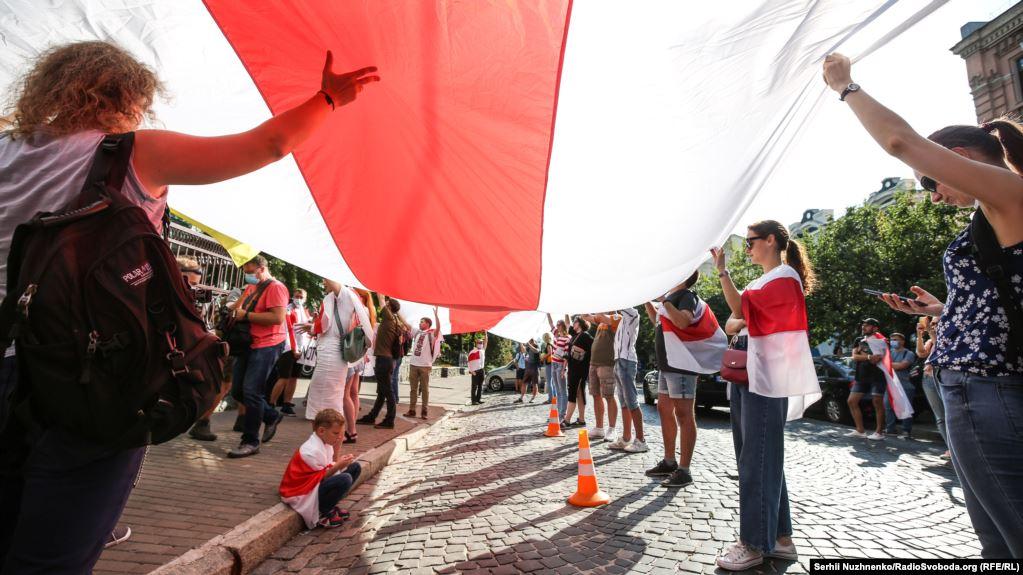 A rally in Kyiv supports protesters in Belarus / Photo from RFE/RL
A rally was held on Kyiv's Independence Square, also known as Maidan Nezalezhnosti, on Sunday, September 13, to express solidarity with protesters in Belarus.
About 100 people took part in the event, Radio Free Europe / Radio Liberty's Krym.Realii service reported.
Read alsoUkraine steps up border security pending Belarus-Russia military drills (Video)
Participants in the rally were holding flags and posters, chanting: "Long Live Belarus," "Go away," and "Lukashenko – to the paddy wagon," and singing songs of the Belarusian rock band "Lyapis Trubetskoy."
They unfolded a large white-red-white flag, the same as used by protesters in Belarus, and marched through the central streets, heading to the Belarusian embassy in Kyiv.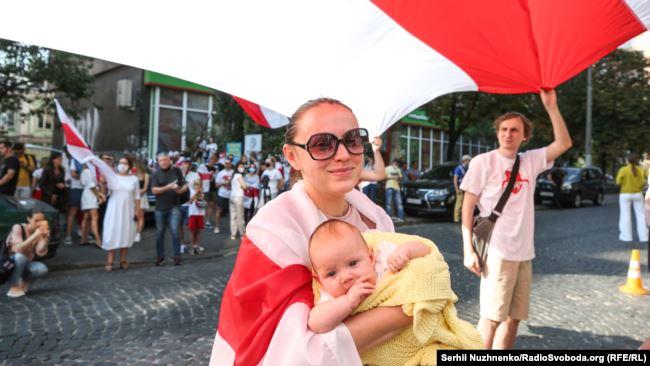 Photo from RFE/RL
Organizers of the event said: "On September 14, citizen Lukashenko, who illegally holds power in Belarus, and Russian President Vladimir Putin are getting together to discuss new conditions for the so-called deep integration."
The organizers emphasize that the Belarusian people "did not authorize Lukashenko to discuss and sign documents concerning the future of Belarus."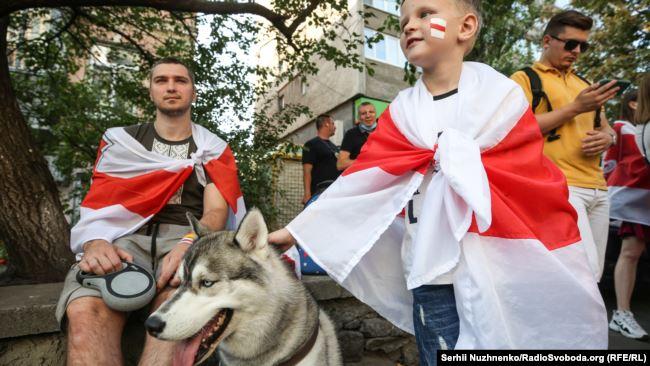 Photo from RFE/RL
Recent developments in Belarus in brief
On August 9, presidential elections were held in Belarus. The country's Central Election Commission announced the final election results. In particular, 80.1% of voters supported incumbent President Alexander Lukashenko, 10.1% voted for Svetlana Tikhanovskaya, 1.67% for Anna Kanopatskaya, 1.2% for Andrey Dmitriev, and 1.14% for Sergei Cherechnya. Some 4.59% voted against all candidates.
Thousands took to the streets to protest what many believe was a rigged vote count. Riot police violently cracked down on protesters.
Belarus' Ministry of Internal Affairs said about 7,000 protesters had been detained in different cities since August 9. On the evening of August 13, the authorities started to release detainees.
On August 16, the March of Freedom, the largest protest in the history of Belarus, took place in Minsk. Hundreds of thousands of people joined in.
Lukashenko has repeatedly claimed "foreign interference" in the election and external efforts to foment the protests. He spoke with Russian President Vladimir Putin who had promised him comprehensive assistance upon request.
On August 27, Putin suggested sending Russian security forces to suppress protests in Belarus.
The European Union declared non-recognition of the Belarus election results and reached an agreement to impose sanctions against Belarusian officials in response to vote rigging and the use of violence against protesters.