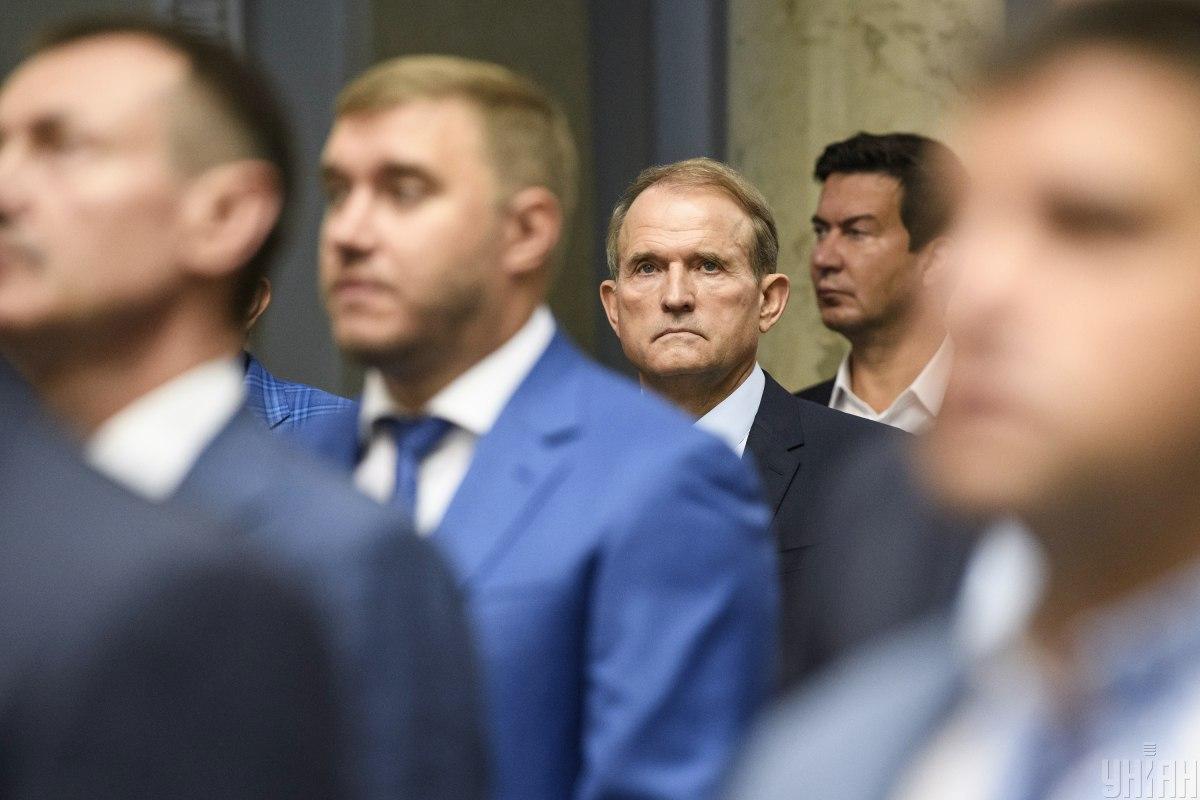 Viktor Medvedchuk / Photo from UNIAN
A group of Republicans proposes that a number of media tycoons close to Russian President Vladimir Putin who help the Kremlin promote its agenda be included in the sanctions list.
This is stated in a respective report by the Republican Study Committee, entitled "Strengthening America & Countering Global Threats."
Read alsoMedia report "blast" outside Kyiv office of Putin's political operative (Video)
The document lists Bidzina Ivanishvili, the richest man in Georgia, who is a close ally of Putin and involved in destabilizing Georgia on Russia's behalf. It also mentions Viktor Medvedchuk, a "pro-Russian oligarch and proxy in Ukraine who has used his media empire to actively assist Russia's efforts to spread harmful disinformation within the country."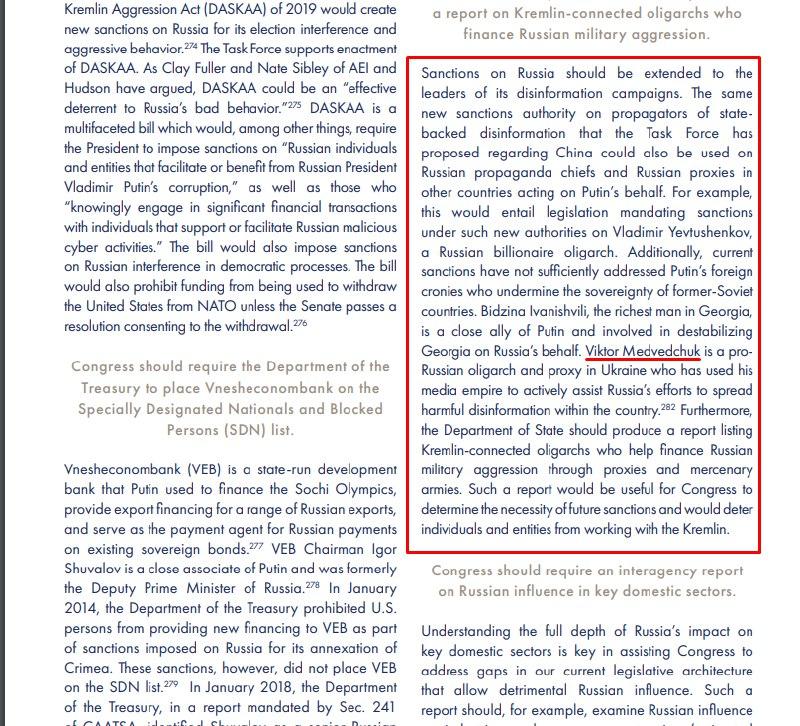 Screenshot
"Understanding the full depth of Russia's impact on key domestic sectors is key in assisting Congress to address gaps in our current legislative architecture that allow detrimental Russian influence," it said.
Meanwhile, speaking during Egor Kuroptev's Border Zone program, former U.S. Special Representative for Ukraine Negotiations Kurt Volker explained that the publication of the study does not mean its mandatory support by the majority.
"It is a grouping of Republican congressmen and their staffs who work together to produce policy papers or ideas that reflect their thinking without it being part of a legislative process. So is it terribly influential in the sense that this is going to be turned into legislation? No! On the other hand, it is significant because it shows where the thinking is for a significant part of the Republican Party within the Congress. And from that prospective, it is very helpful to see," he said.
Volker also noted that it was unknown whether the proposal would be supported in the Senate and the White House, because "there are degrees" of this support.
"I would not expect the language of this report or the toughness of the sanctions that it recommends to be streamed through across the House of Representatives as legislation into the Senate and into what it makes it to the White House. A weaker version of it would be more likely," he said.
Speaking of increasing the level of sanctions against Russia, he said: "I actually support the idea that the sanctions we've put in place have not been sufficient to change Russia's behavior."
The American diplomat also added that he considers the individuals mentioned in the document, in particular Medvedchuk, Russian oligarch Vladimir Yevtushenkov and Ivanishvili, to be "very different people with very different backgrounds and different relationships." "And I think lumping them together in that way is not quite accurate," he said.
"For instance, I think that Mr. Ivanishvili acts very independently. I think that Mr. Medvedchuk, on the other hand, is very, very closely tied to President Putin. So, I don't think you can lump them together this way," he said.
"And in terms of the study group itself, I think this is worked on, researched on and drafted on by staffers there. It doesn't have the level of scrutiny that something going through a formal congressional committee would have. On the other hand, as I said earlier, I think it reflects some of the attitude, the positioning of Republican members of Congress. And for that reason, it's significant to bear in mind," he added.