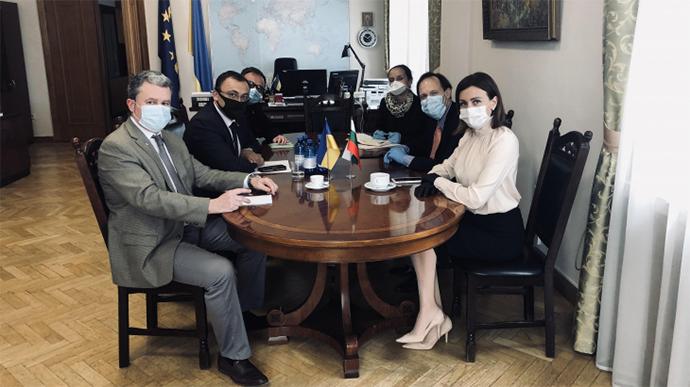 mfa.gov.ua
Deputy Foreign Minister Vasyl Bodnar and Bulgarian Ambassador to Ukraine Kostadin Kodjabashev following their meeting held Friday, May 22, concluded that there were no disagreements between the two countries on the issue of ensuring the rights of the Bulgarian community in Ukraine.
That's according to the press service of the Ministry of Foreign Affairs of Ukraine.
"Diplomats always find a common language. There are no disagreements between Ukraine and Bulgaria on ensuring the rights of the Bulgarian community in Ukraine. We agreed to resolve all pressing issues in a constructive spirit," the statement says.
The interlocutors also praised the role of the Bulgarian community of Ukraine in the development of relations between Ukraine and Bulgaria.
Read alsoZelensky sends message to Hungary's Orban on Day of Victory over Nazism – media
Vasyl Bodnar noted that the administrative-territorial reform that is ongoing Ukraine in no way affects the level of ensuring the rights of national minorities, in particular the Bulgarian community of Odesa region.
The Bulgarian side noted the importance of maintaining the national, cultural and linguistic identity of the Bulgarian national minority in Ukraine.
As UNIAN reported earlier, the Bulgarian parliament in a statement released on Wednesday criticized Ukraine's plans to implement an administrative reform in Bolgrad district of Odesa region, which is home to a major part of the Bulgarian minority living in Ukraine.
Subsequently, the Foreign Ministry expressed protest, called unacceptable any attempts of a foreign state to meddle in the internal affairs of Ukraine.