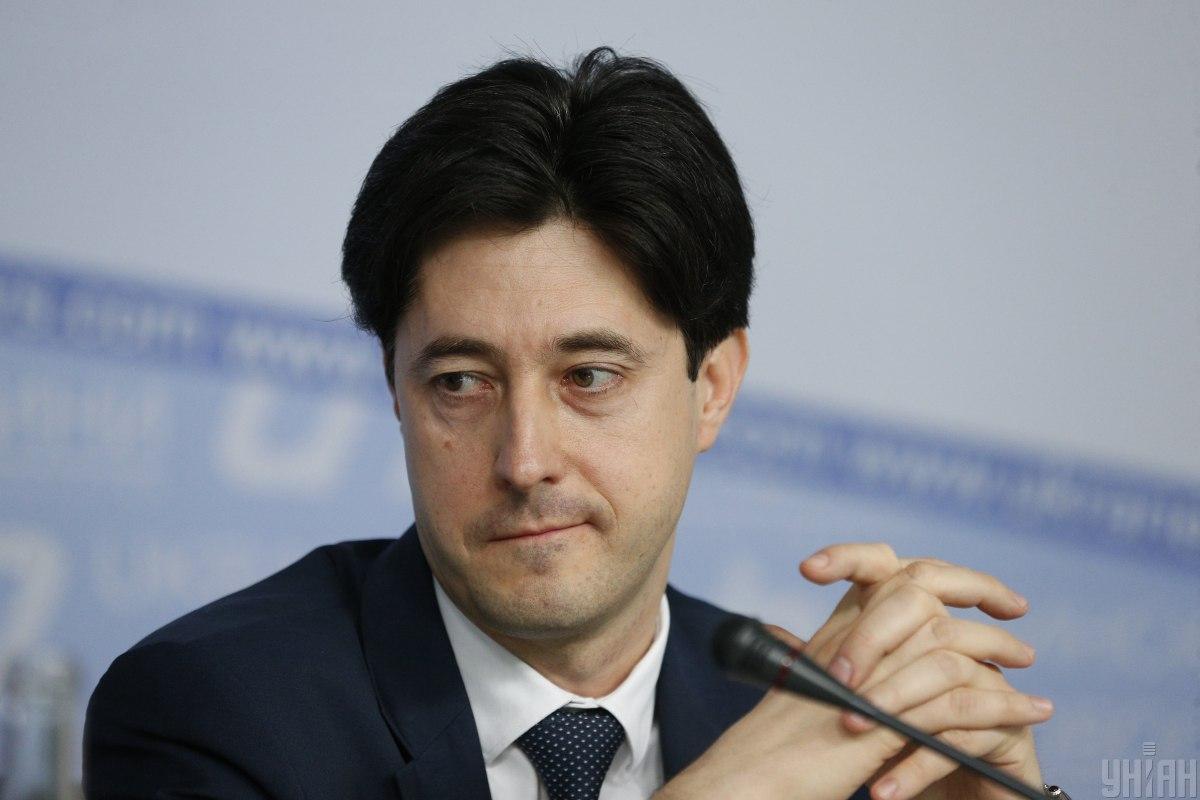 Vitaliy Kasko / Photo from UNIAN
The Kyiv-based Pechersky District Court's decision that revokes ex-deputy prosecutor general Vitaliy Kasko's resolution relaunching criminal proceedings against Oleg Bakhmatyuk should let UkrLandFarming get back to normal work.
Former owner of VAB Bank and owner of one of Ukraine's largest agricultural producers, UkrLandFarming, Oleg Bakhmatyuk, has announced his intention to sue ex-deputy prosecutor general Vitaliy Kasko for reopening the criminal case against him, which led to "eight-months terror" against the businessman and the holding's personnel.
"We will sue Kasko, as he violated all the provisions. He has terrorized me personally, UkrLandFarming, and people [the holding's workers]. We will appeal to Ukraine's courts and law enforcement agencies regarding his offense, which in fact is the source of almost eight months' terror against one of Ukraine's major employers, which employs 27,000 people," he told UNIAN on June 9.
Read alsoResumed unlawfully: Court rules in case of Pysaruk and Bakhmatyuk (Document)
According to Bakhmatyuk, the National Anti-corruption Bureau of Ukraine (NABU) has since then conducted dozens of searches in the company, threatening its management. However, thanks to the ruling by Kyiv's Pechersky District Court, which overturned Kasko's resolution to resume criminal prosecution of Bakhmatyuk, UkrLandFarming's work is expected to get back to normal.
"Kasko's resolution is the basis, without which such actions will no longer be possible. Threatening messages and tens of thousands of summons were issued to our employees. We brought people out onto the streets three times to reach out to authorities. These are the people who work, pay taxes, and create GDP," he added.
The Pechersky District Court's ruling is expected to cancel a resolution by the Appellate Chamber of the High Anti-Corruption Court on Bakhmatyuk's arrest in absentia, he said.
"I hope this ruling will give us the opportunity to reach some constructive logical conclusion. It will be final, not subject to appeal… Now all prosecutions shall be stopped. After that, we will continue to have an open dialogue with the government," he summed up.
As UNIAN reported, on May 28, 2020, the Appeals Chamber of the Supreme Anti-Corruption Court upheld an appeal motion tabled by the prosecutor from the Special Anti-corruption Prosecutor's Office (SAPO) and ruled that Bakhmatyuk be remanded in custody.
On November 22, 2019, the website of the Ministry of the Interior published information on putting ex-owner of VAB Bank and owner of UkrLandFarming Agro Holding Oleg Bakhmatyuk on the wanted list. In fact, investigators were aware of his whereabouts, while Interpol refused to declare Bakhmatyuk wanted internationally.
Earlier, on November 14, NABU detectives informed Bakhmatyuk he was suspected of embezzling a UAH 1.2 billion [US$45.1 million) stabilization loan issued by the National Bank of Ukraine (NBU) to VAB Bank.
Bakhmatyuk was charged with committing crimes under Part 5 of Article 191 of the Criminal Code of Ukraine.
UNIAN memo. The UkrLandFarming group of companies was founded in 2007. The holding's land bank is 570,000 hectares. The company engaged in production of grain, sugar, meat, raw milk, leather, eggs and egg products. UkrLandFarming operates one of Ukraine's major network of modern silo complexes, two of which are the largest in Eurasia, with a capacity of 2.6 million tonnes. The company exports products to 40 countries.