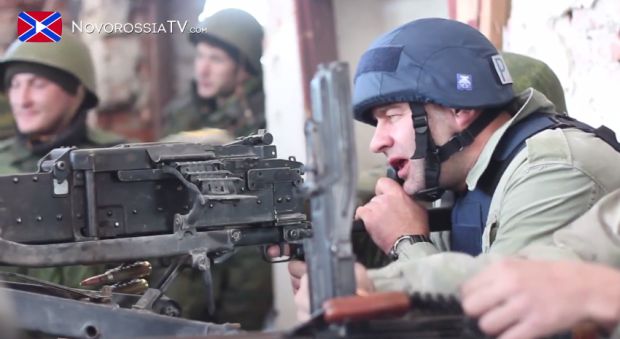 A Russian actor has been explaining why he was filmed shooting a machine gun while wearing a press helemet / Screenshot from insurgent television
"Everyone [at the airport] is safety-conscious - I took what I was given," the actor said in an interview with Russia's Dozhd television channel.
Porechenkov did not say who had given him the helmet, but said it was not the insurgents.
He said that when at Donetsk airport he had shot at some practice targets, but that he had gone there with the purpose of showing militants a film and to deliver medicines.
Earlier a video was posted on the Internet showing Porechenkov firing a maching gun while wearing camouflage and a press helmet. The head of the Union of Journalists of Moscow, Pavel Gusev, later slammed the actor for his actions.
"If tomorrow or the day after, God forbid, one of our journalists is killed or wounded, let Porechenkov understand that their blood is on his hands, and that he had no right to take up arms," Gusev said.
As UNIAN reported earlier, Porechenkov came to Donetsk on Thursday and spoke to militants of the self-proclaimed Donetsk People's republic, and was later filmed firing a gun in a part of the airport controlled by the militants.
In response to the actions of the actor, Ukraine's SBU security servise said it had opened a case against him under Article 258-3 of the Criminal Code ("the creation of a terrorist group or terrorist organization"). The Interior Ministry, in turn, proposed that Porechenkov be put on the list of people banned from entering Ukraine, and asked citizens to boycott his films.