Militants 'issue ultimatum to give up weapons' to soldiers at Ukrainian checkpoint
Anti-Kyiv militants have demanded that Ukrainian soldiers defending checkpoint No. 31 on the Bakhmutka highway surrender their weapons, a volunteer serviceman in contact with the position's senior officer said on Monday.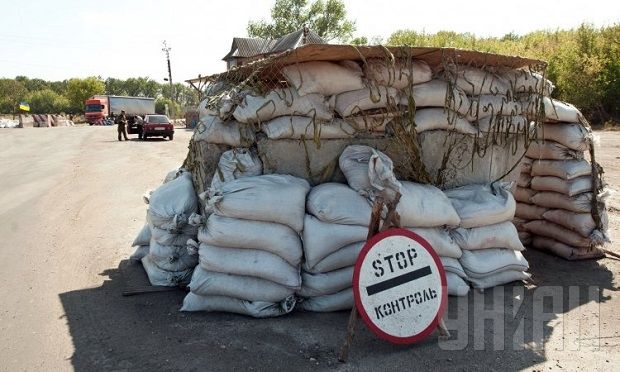 Militants have issued an ultimatum to Ukrainian soldiers at another checkpoint in the Donbas / Photo by UNIAN
Vounteer Oleksiy Mochanov told Radio Liberty that an ultimatum from the militants had been delivered by a civilian - a taxi driver.
"At 0730 a local taxi driver, under a white flag, delivered an ultimatum to the 31st checkpoint ... The time given for the ultimatum is not known, but almost immediately they fired five mortar rounds as a 'warning,'" Mochanov said.
"There's no panic or hysteria ... What the decision 'from above' will be is still unknown. What's flying 'from the south' is clear and known for sure. We're waiting for a decision."
Checkpoint No. 31 is on the front line in the Bakhmutka area. Last week Ukrainian forces were withdrawn from the nearby checkpoint No. 32 after it was almost completely surrounded by militants.
There was no official comment from the Ukrainian authorities on the situation at checkpoint No. 31 as of late on Monday morning.
If you see a spelling error on our site, select it and press Ctrl+Enter