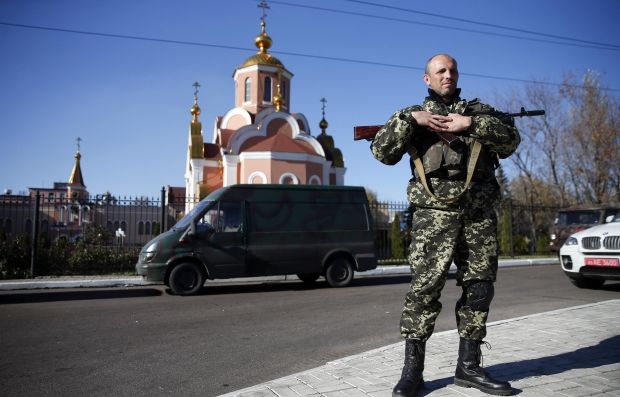 REUTERS
The proposals will be announced during the next round of consultations, which are to be held in Minsk in late November, the militants said.
The leaders of the DPR and LPR, which are districts of Ukraine's Donetsk and Luhansk regions that have been taken over by armed gangs of separatists and Russian mercenaries, say they will appoint permanent representatives to attend the talks.
"The leaders of the republics and parliaments will not personally participate in the Minsk consultations, but the representatives of the republics will act in accordance with the instructions issued by the leaders," a statement from the insurgents reads.
The need to draft a new Minsk Protocol is justified by the fact that Ukraine intends to unilaterally cancel the document, revoking the laws on the special status of Donbas and amnesty, the insurgent leaders said.
As UNIAN reported earlier, in March 2014, after a stealthy invasion of Russian troops in unmarked uniforms, Russia annexed the Ukrainian territory of Crimea and started destabilizing the situation in Donbas. The Ukrainian authorities say the LPR and DPR were created in the Donbas with the direct participation of the Russian secret service and with the support of the Russian army.
There is also overwhelming evidence that Russia has been supplying weapons to the rebels and sent mercenaries and its regular troops to the east of Ukraine.
According to the Minsk agreements reached on September 5, the insurgents pledged, in particular, to hold elections solely in compliance with the Ukrainian law.
On October 16, the president of Ukraine signed the Law "On the special status of local governance in certain areas of Donetsk and Luhansk regions." The document envisaged holding early elections of deputies in district, city, city district, town and village councils, as well as village, town and city mayors in certain areas of Donetsk and Luhansk regions on December 7, 2014.
However, the militant groups in the occupied territories of Donetsk and Luhansk regions, supported by Russia, conducted elections of heads of the republics and their legislatures.
The Ukrainian government, the European Union and the United States condemned the holding of these elections, and said they would not recognize their results.
Russia claims that the elections in the breakaway districts of Ukraine's Luhansk and Donetsk regions held on November 2 do not breach the Minsk agreements.
On November 4, the National Security and Defense Council of Ukraine, on the recommendation of the Ukrainian president, decided to submit for consideration to the Ukrainian parliament a bill to revoke the draft law on the special status of local governance in certain areas of Donetsk and Luhansk regions signed by the president on October 16.