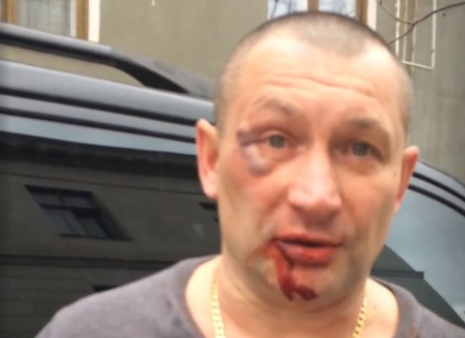 Screenshot from video
Two men have brutally assaulted Ukrainian national Ihor Krynychny who has refused to flee the Russian-occupied Crimea.
The attack followed days of intimidation over pro-Ukrainian stickers on his car.
Activist Illona Karacan posted on Facebook two videos showing Krynychny's beatings. She said that he never hid his nationality and refused to apply for a Russian passport.
"He got spat on and beaten up only because he did not hide his nationality. Now, he's unable to get medical treatment in full. What next? Should one put special insignia on their clothes so that people of different nationalities could be distinguished?" she wrote.
Read alsoPatriot jailed for not betraying Ukraine in occupied Crimea resists pressure to end hunger strikeKrynychny says one of the men who assaulted him had often spat on his car throwing hate fits.
"Every day he came and spat on my car. I asked him why would he do something like that. He said it was because I'm an 'Ukrop' [a derogatory term Russians use for Ukrainians] and a 'fascist.' Here is what this has led to," the victim says.
"Today, March 31, it's four days since I was assaulted. I got kicked out of a hospital after three days spent there. Apparently, you cannot stay at a hospital longer without a Russian passport," he said, adding that the attack over Ukrainian stickers shows it is "becoming dangerous to be a Ukrainian national" in the occupied Crimea.