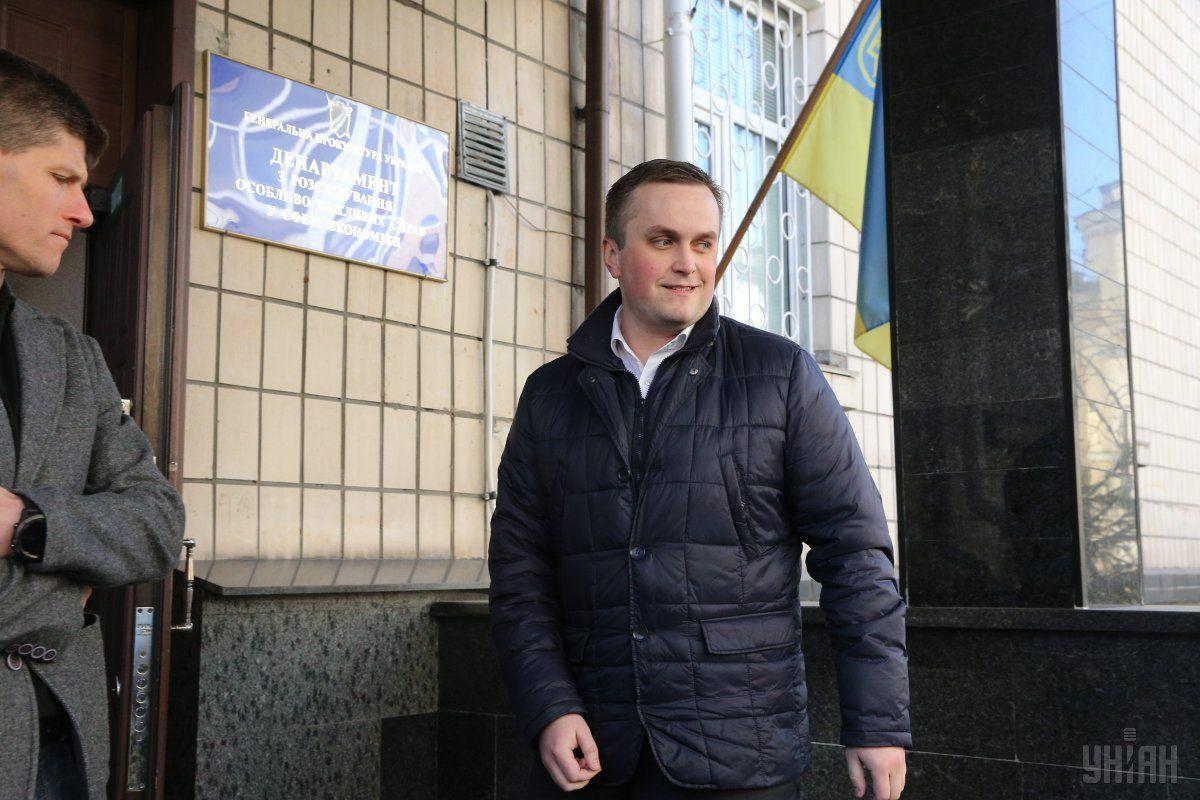 Photo from UNIAN
Head of the Specialized Anti-corruption Prosecutor's Office (SAPO) Nazar Kholodnytsky allegedly impeded investigation in criminal cases against MP Heorhiy Lohvynsky, Oleh Bakhmatyuk, ex-head of the National Corruption Prevention Agency Natalia Korchak, and aide to Oleh Lyashko, Oleksandr Bohachev, as stated in the complaint filed by NABU Director Artem Sytnyk with the prosecutors' qualification disciplinary commission.
In particular, Sytnik requests that Kholodnytsky be dismissed based on the following charges: failure to perform and improper performance of official duties; failure to maintain secrecy of investigation; commission of actions discrediting the office and casting doubt on its objectivity, impartiality, independence, and integrity; gross violation of the rules of prosecutorial ethics; interference with or any other influence on the actions of prosecutors and other officials, Hromadske reports.
In particular, the National Anti-corruption Bureau is investigating the case against Oleksandr Bohachev, an assistant adviser to leader of the Radical Party Oleh Lyashko. According to the investigation, Bohachev tried to bribe the acting minister of health, Ulyana Suprun, by offering her a free apartment.
Kholodnytsky allegedly met in his office with the deputy director of the developer company in question and warned about possible searches, and also revealed the details of the criminal case, urging the man to provide false evidence, giving instructions on what he should be saying during interrogation. Later, Kholodnytsky alleged;y summoned a subordinate who was to conduct a questioning, and instructed him to interrogate the developer as a "witness."
Read alsoTop anti-graft prosecutor confirms his office buggedAlso, NABU detectives are investigating three cases where MP Heorhiy Lohvynsky is in focus. According to the NABU chief's complaint, Lohvynsky visited Kholodnytsky in his office and asked what he was going to do with said cases.
Kholodnytsky allegedly replied that "everything is under control" and that he will tip Lohvynsky about any upcoming investigative actions against him. Then Kholodnytsky summoned a subordinate investigating these cases and learned that he was going to make Lohvynsky suspect in corruption-related crimes. Kholodnytsky alleged;y responded that there was a "political nuance" in the case, as Lohvynsky was supported by Crimean Tatar MPs Mustafa Dzhemilev and Refat Chubarov, as well as the entire composition of the European Court of Human Rights, where Lohvynsky's wife had been a judge for 8 years. He also recalled that Lohvynsky was widely respected at the PACE. Therefore, Kholodnytsky said he didn't want to "get into a fight with them." Finally, Kholodnytsky noted that the investigation should either be postponed indefinitely, or shut down altogether.
The NABU is also investigating two criminal cases involving businessman and owner of UkrLandFarming agricultural holding Oleh Bakhmatiuk. Kholodnytsky several times tried to persuade prosecutors to suspend the investigation into these cases. When the prosecutors and detectives working on this case gathered for a meeting and decided to move on with the investigation, Kholodnytsky, by his personal order, took the Bakhmatiuk cases from the Special Anti-corruption Prosecutor's Office and transferred them for further investigation by the National Police.
Read alsoProsecutors Qualification Commission opens case against top anti-graft prosecutorSince October 2017, NABU detectives have been investigating a criminal case in which the former head of the National Agency for the Prevention of Corruption, Natalia Korchak, is in focus, namely the investigation into a car she failed to include in her assets declaration. According to NABU, Kholodnytsky refused to sign a warrant on temporary access to Natalia Korchak's belongings and documents, because he didn't "find it advisable". Also, according to the complaint, Kholodnytsky met with the head Transparency International Ukraine Yaroslav Yurchyshyn and disclosed classified information in the Korchak case, thus failing to maintain the secrecy of the investigation. At the end of the conversation, Kholodnytsky allegedly stated that he was not going to arrest Natalia Korchak, explaining that "this would hurt everyone."
NABU detectives from November 2016 have been investigating the case, where Odesa Mayor Hennady Trukhanov is targeted. During a conversation with his deputy, Kholodnytsky allegedly ordered him not to conduct active investigative actions against certain persons involved in the case.
Read alsoAnti-graft prosecutor tipped off probe targets on upcoming raids, NABU director claims
According to NABU, in the episodes described, Kholodnytsky improperly performed his duties, disclosed pre-trial investigation data to a witness, and committed acts discrediting the office and casting doubt on his objectivity, impartiality, and independence, and rudely violated the rules of prosecutorial ethics.
"I am ready for a study of all accusations that NABU Director and Prosecutor General might voice against at a meeting of the Prosecutors' Qualification and Disciplinary Commission. I am ready to defend my position, but I demand that everything be examined as a whole and that all my words, as well as all the actions that followed, not be concealed. I won't be going on a sick leave, I'll come to a hearing and provide all the explanations that the Commission will require," Kholodnytsky told Hromadske, commenting on the report.
Later on Wednesday, NABU has uploaded on its YouTube channel a compilation (in Ukrainian) of audio records taken over a month with a bug planted in Kholodnytsky's office.